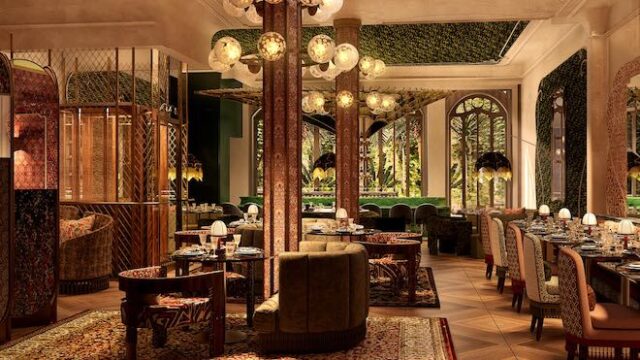 It is a luxurious multi-space that combines gastronomy, cocktails and live music, has a spectacular decor inspired by art nouveau and surrealism and is the new hotspot of Enrique Granados Street in Barcelona.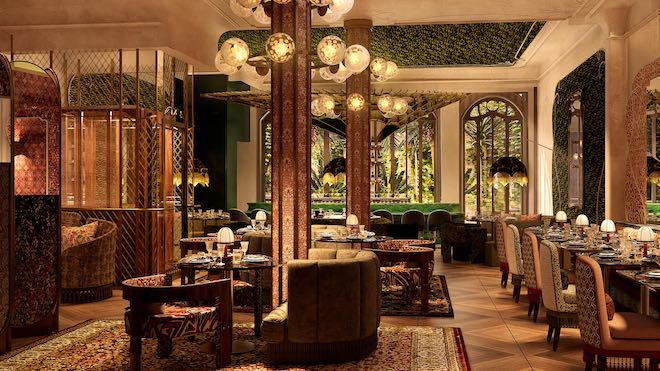 In Barcelona we are used to seeing new restaurants opening, but we can firmly say that none of them is like this important newcomer to Enrique Granados Street. It is one of these exclusive restaurants with a a complete leisure proposal that are sorely needed in Barcelona. Jacqueline Barcelona is a restaurant but also a cocktail bar y un club with live music . And soon they will also open one champagne bar .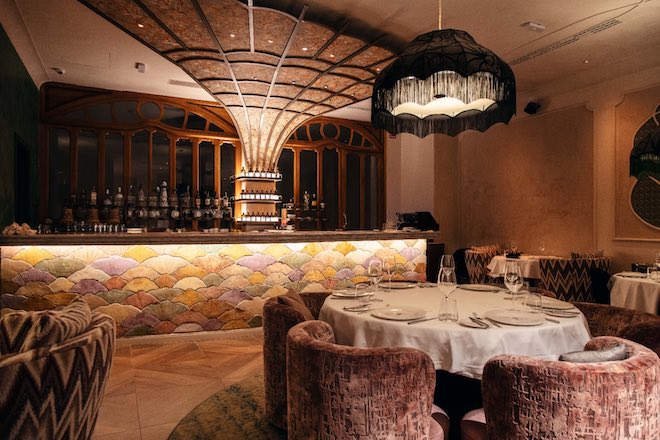 The beautiful room, decorated by the prestigious Rockwell group, features three stories. The restaurant on the main floor, the Dinner Club downstairs and the soon-to-open champagne bar upstairs.
An exclusive restaurant serving international cuisine in an art nouveau and surrealist-inspired setting.
The decoration of the store is pure art. For its design, the Rockwell Group has mixed elements of art nouveau and surrealism creating totally unique spaces. The result is a exuberant elegance and most original that surprises with all kinds of details.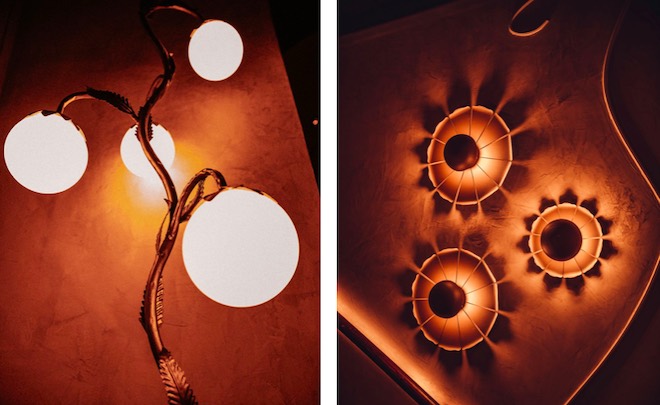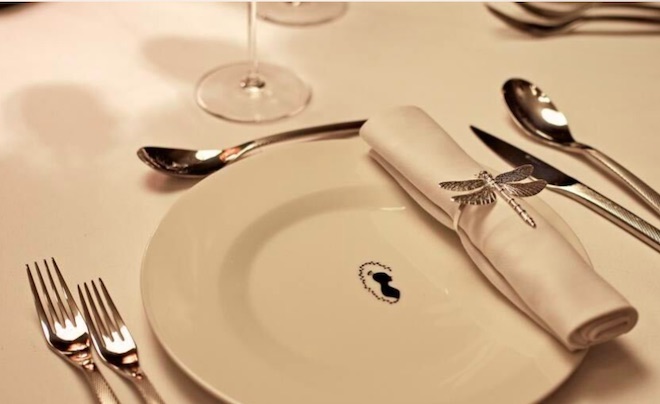 The cuisine is a proposal of international character in which the excellence of the national product acquires a creative touch from the hand of the Chef Dani Padró of the Hoffman school.
Therefore, in the menu we find the best references of the classic in its most refined version. Some examples are the jerky croquettes on creamy foie gras, red shrimp tartar and stracciatella with almonds, Almadraba red tuna tartar, grilled scallops, Galician blonde sirloin steak or suckling pig confit. And more international dishes such as bacon bao, sea bass ceviche or causa limeña, among other proposals.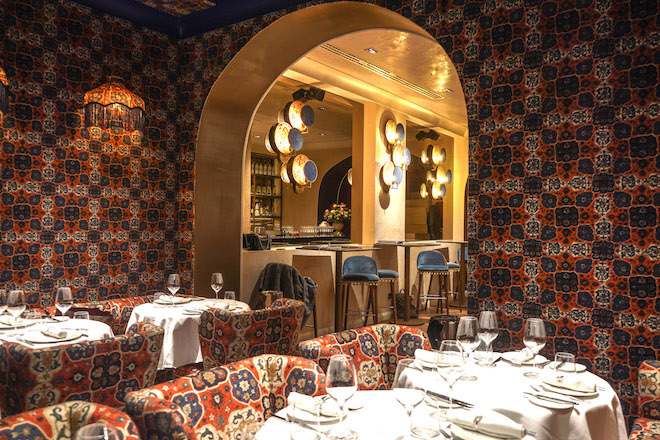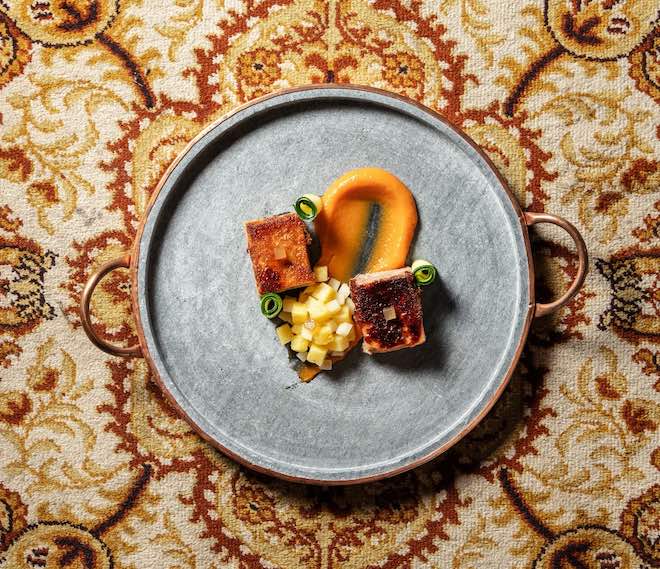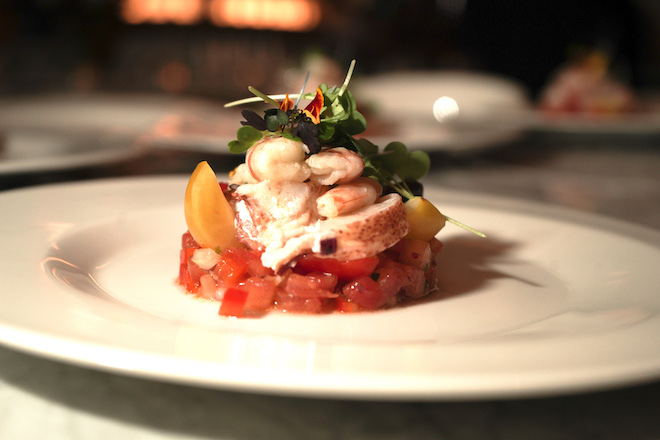 In addition to the restaurant, which seats about 80 diners, Jacqueline Barcelona also has a Japanese bar. The Omakase Bar has a limited seating capacity of only 8 people and is the chef who proposes the special dishes of the day. The dinner club offers dinners with live music for up to 45 people.
A new benchmark in the world of Barcelona's most exclusive leisure activities.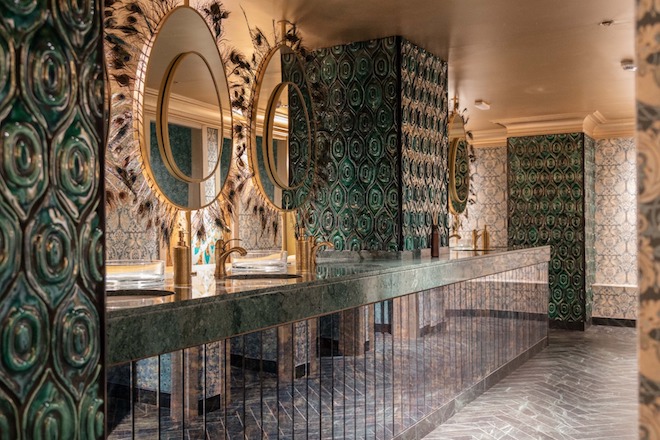 This interesting and exclusive proposal by Jacqueline Barcelona is the result of the union between Toni Cano, who knows the Barcelona leisure scene well – he is the son of the director of the Sutton Group – and the Rockwell Group, a benchmark in architecture and design.
The result is undoubtedly surprising. One of these places you have to go to because as they say this is a place to see and be seen.
---
Jacqueline Barcelona is located at C/ d'Enric Granados, 66, Barcelona.
The Dining Room: Open Wednesday to Sunday, 7:30 pm to 3:00 am
The Dinner Club: Open Wednesday to Saturday, 7:30 pm to 3:00 am
Champagne Bar: Next opening.
To see the restaurant menu
restaurant menu
For reservations: Jacqueline reservations
---
Chez Kessler, the vegan chic restaurant on Enrique Granados Street