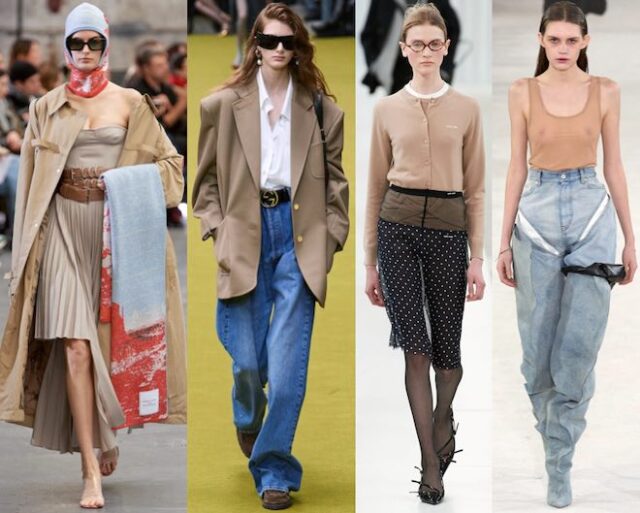 According to Pantone, the autumn winter 2023/2024 fashion colors are the reflection of the desire we have to enhance our individuality and express our creativity. These colors and their possible chromatic combinations invite us to experiment freely, liberating all our creativity.
In this palette of fashionable colors The vibrant tones that are totally trendy are mixed with other more basic, subtle and essential tones, offering us great versatility. Any combination is possible, we decide where to go.
In fact, in the oi trend colors 2023/2024 we found some shades typically warm autumn and other bright and daring ones that are completely trend and neutrals that function as basics .
As for the basics, actually this season they also become fashionable colors. There is no doubt that a lot has had to do with the fashion of silent luxury.
The fashion colors of autumn winter 2023-24
FIRE RED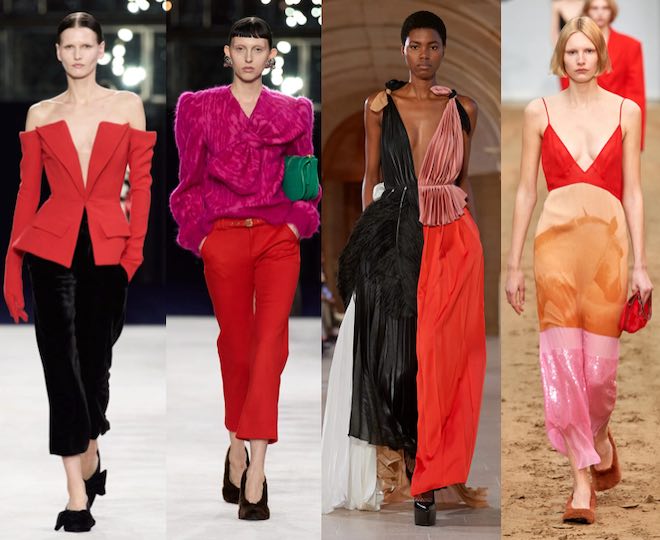 This coming winter the red will be trendy. It will be worn in all its variants. On the runways we have seen maroon, autumnal russet and Viva Magenta, the fashion color of 2023. But it's the bright red Fiery Red The most daring of its variants, the red color that will be the trendiest.
The Fiery Red total look is very powerful. It works very well with seasonal basics, gray and sand, and combined with black it is very elegant and feminine. For powerful contrasts, the combination with purple and pink is a winner.
EARTH TONES: BROWN, RUSSET, RUST AND BEIGE
Autumn classics. They are the typical colors of nature in autumn and this year they are trends.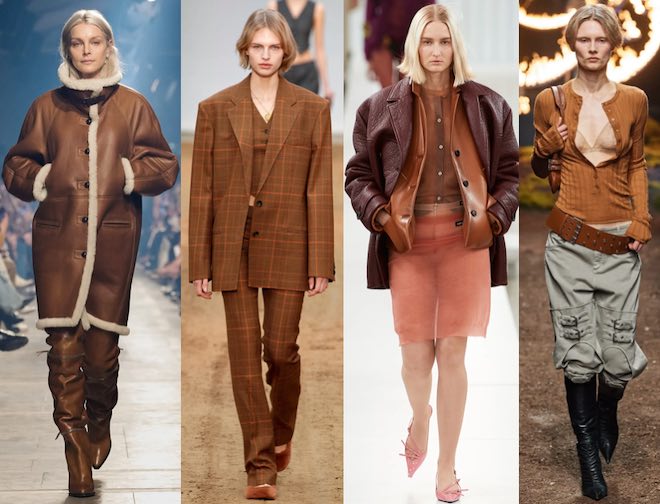 BROWN
Brown is a classic shade that represents stability. Fired Brick The trendy shade of OI 2023/2024 has a warm, reassuring shade that combines perfectly with the most daring fashion colors such as blue, yellow or green.
The most chic autumn bet is to combine it with the tones of its chromatic range, the result is very warm and elegant.
TEJA
The Pantone Burnt Sienna is a warm very autumnal earth tone . Perfect and very chic in total look, it also combines ideally with the other earth tones of the season and with the basics.
To create powerful contrasts, the combination with Lapis Lazuli blue or green is very successful.
---
LEMON YELLOW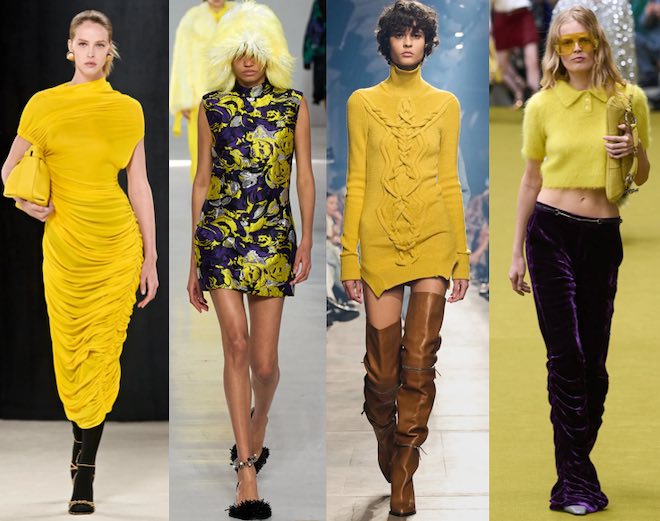 Vitaminic and full of energy and vitality, lemon yellow has been chosen by many hairstylists to give a powerful touch of color to the autumn-winter 2023-2024 season. For Pantone, it is Spectra Yellow or High Visibility, in any case we are talking about a warm yellow that reminds us of the color of the sun and infuses us with its energy.
In total look is the most powerful, it looks great with the basic trend as pearl gray or black. Worn with accessories it is perfect to give a fashionable touch to our outfits.
---
AZUL LAPIS LAZULI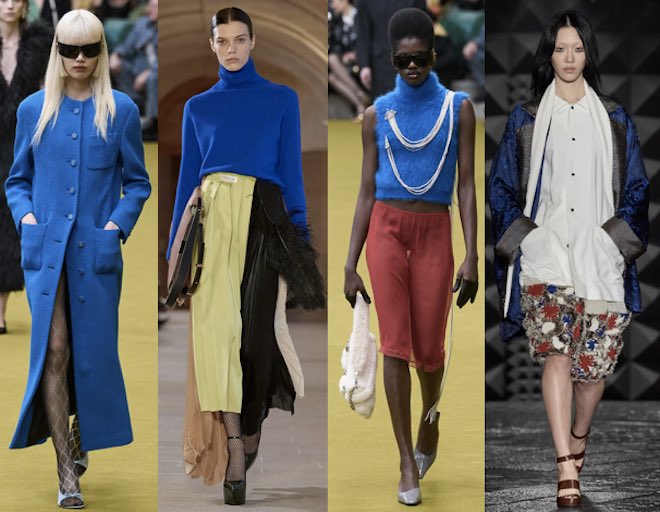 An intense and brilliant blue that is reminiscent of the color of Lapis Lazuli and is very sophisticated and mysterious. In addition to being a very flattering shade for almost any type of face.
Ideal in combination with neutral tones such as pearl gray or sand.
---
PASTEL ROSE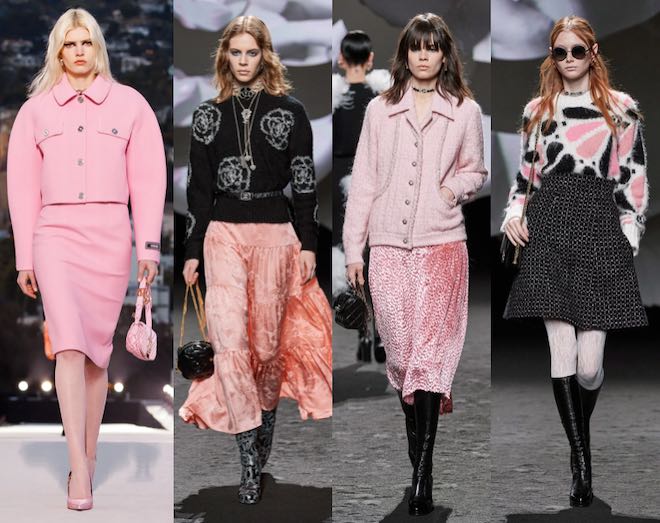 This summer it has been fuchsia Barbiecore, for the winter we will continue with pink, but more in more delicate shades. This pastel pink is the most sweet and feminine .
In total look and is perfect to give a touch of color to outfits in gray and black that will be the main protagonists of the coming winter.
---
PURPLE
For a long time it has been considered a very difficult color to wear but now things have changed. Purple has made a place in our closets and we like it. Mystical, intense and very powerful, purple is also confirmed this season as one of the fashion colors autumn winter 2023 2024.
---
Fashion colors fall winter 2023 2024:
Trendy basics
GRIS PIEDRA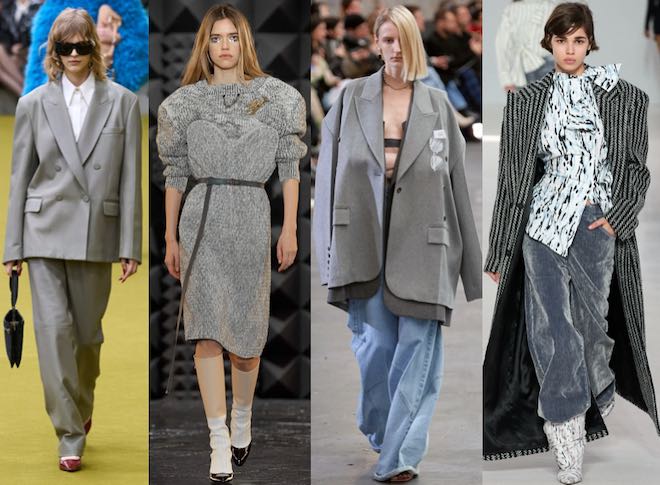 Chic, elegant and sophisticated. Stone gray is the perfect ambassador of silent luxury which is so much talked about lately. A basic color that represents stability and security that this fall winter becomes a trend.
In total look is the most elegant and is the perfect base to play with the trendy colors of the season. Ideal with bright red, lapis lazuli blue or purple.
ARENA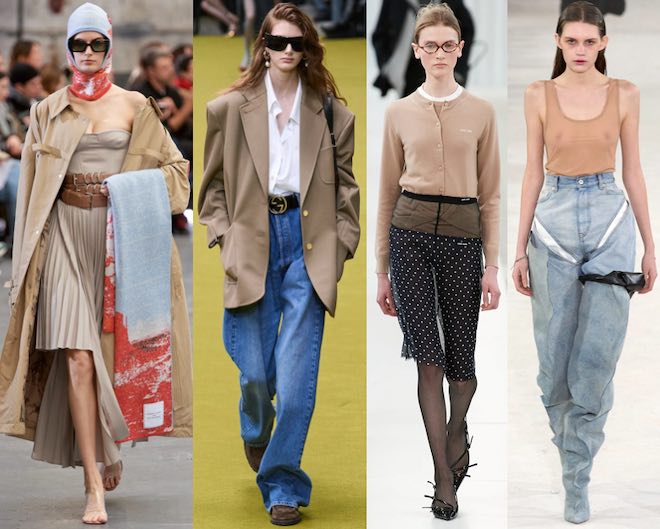 BLACK
Black is a classic that is always sophisticated and elegant. A basic that, along with gray and sand tones, this year is more trendy than ever. So go for total black looks with maxi accessories or pieces in trendy colors to give a touch of light and color.
foto vogue.com/fashion-shows composiciones propias
---