Tapas route through Barcelona by the mythical bars. We leave you the list of the great classics of the most traditional tapas, popular places that never disappoint.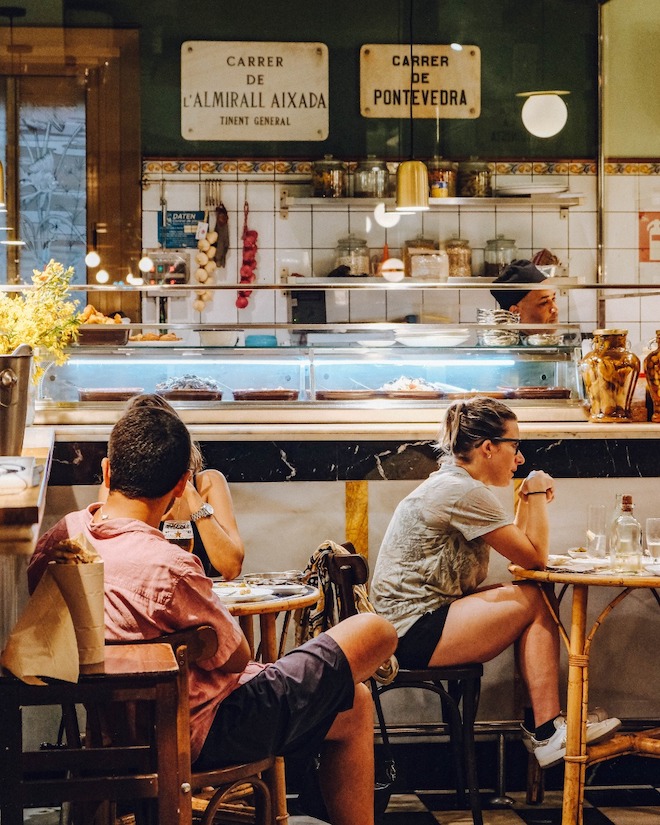 Amidst so many new stores opening and closing and many original and innovative proposals, they continue with their lifetime charter . They are historic places that with their tapas bars have become an institution in Barcelona. Classics that never fail, perfect for a route of the most mythical tapas in Barcelona . If you are from barna you surely already know them and, if you are visiting, these are the perfect bars to set up your most traditional tapas route.
In Barcelona, going out for tapas is not as typical as in other Spanish cities. Here it's more of a dishes, forquilla breakfast and making vermouth. But that doesn't mean there aren't little gems, authentic places with popular prices and without many pretensions other than offering good tapas and inviting us to enjoy their food.
The definitive list of the most authentic mythical bars in Barcelona to go out for tapas
Legendary tapas bars in the Barceloneta area
The Barceloneta neighborhood has an important good tapas tradition and this is reflected in a list that has a few bars to know.
BAR BODEGA L'ELECTRICITAT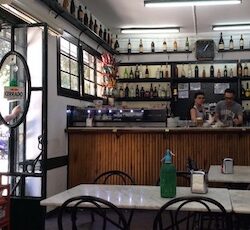 It is in the market square of Barceloneta and was formerly the building that supplied electricity to the neighborhood. Now it conserves in the basement an old well of light and since 1908 it is dedicated to serve beers, wines and vermouth from barrels to its marble tables.
The place has this unique charm of historic bars with several original decorative elements and a very authentic essence.
Highly recommended to go for a vermouth and try the bombas, the pincho de tortilla, the croquettes and its crab salad . Be careful because it is usually very crowded.
Dónde: C/ Sant Carles, 15 Barcelona
---
SMOKED COVE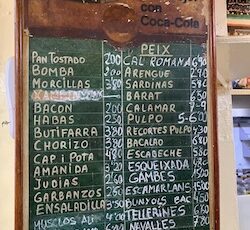 As they themselves say: " La cova fumada is a legendary tapas bar in the Barceloneta neighborhood that has preserved its essence over the years. ". It opened in 1944 and since then little has changed in this bar.
In the Cova Fumada the original decoration is preserved with its mythical marble bar and in the menu, written on a blackboard, there are still fish products and the classic tapas.
The star dish of the house is the bombas (potato balls stuffed with meat served with all i oli and spicy sauce). It seems that the origin of this mythical tapa is precisely this bar, the recipe was invented by Maria, grandmother of the current owners, so if you want to try a real bomb, you can not miss this bar.
C. del Baluard, 56, 08003 Barcelona
---
BAR JAI-CA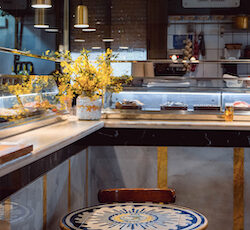 Another classic tapas bar in Barceloneta is Bar Jai-ca. This corner establishment with its peculiar curved bar and its characteristic classic decoration with modernist touches has been open since 1955.
Perfect to have a vermouth and eat tapas and dishes.
Carrer Ginebra, 13 Barcelona
---
Legendary tapas bars in the Gothic Quarter
LA PLATA BAR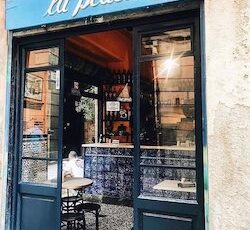 In his letter, the same four covers since it was founded in 1945 The tapas are: fried fish, anchovies and sausage montaditos and tomato salad with onions and olives. The place is very small and is listed in the best tapas bars in Barcelona so be prepared to queue.
Carrer de la Mercé, 28 Barcelona
---
Legendary tapas bars in the Born neighborhood
EL XAMPANYET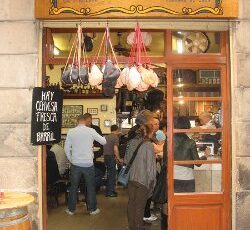 In this place we serve xampanyet (sparkling wine ) since 1929. In fact, it is one of the best known tapas bars in Barcelona and is usually very busy.
The restaurant preserves its original decoration and, in addition to its sparkling wine, offers various tapas and dishes. You must try the anchoas .
Carrer de Montcada, 22, Barcelona
---
Legendary bars for tapas in l'Eixample Esquerra
BAR BODEGA GOL
Classic tapas and authentic atmosphere in the heart of the Sant Antoni neighborhood.
The Bar Bodega Gol is a reference in the neighborhood since 1943, here you will find the classic spoons and a rich selection of tapas, portions and dishes.
A must to try the c azón en adobo and chicharrones (pork rinds) .
C/ del Parlament, 10 Barcelona
---
GELIDA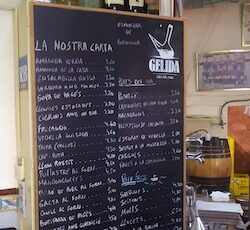 Porrón and classics of Catalan cuisine are the basis of this bar where the famous forquilla breakfast is still served. All a Barcelona classic with bulk wines, authentic dishes and good prices.
C/ de la Diputació, 133, 08015 Barcelona
---
Mythical bars for tapas in Sarrià
BAR TOMÁS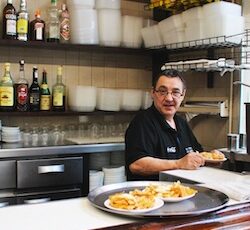 It has the reputation of having the best patatas bravas in Barcelona. I wouldn't say they are the tastiest (excessively greasy but definitely tasty) but they are the most famous and it's funny to go to this place just for having tried it.
It is a traditional winery of popular cuisine in which the atmosphere of yesteryear is preserved.
Carrer Major de Sarrià, 49 Barcelona
---