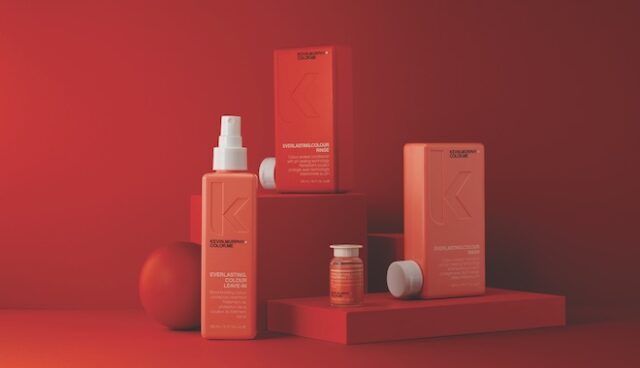 The Australian hair cosmetics firm Kevin Murphy is launching a range of products specially dedicated to the care of colored hair, designed to extend the life of the color and prevent hair breakage.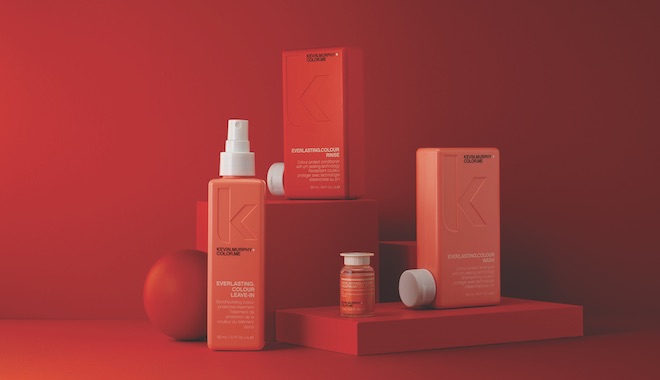 All of us who dye our hair all the time know how difficult it is to dye our hair. maintain color wash after wash . In addition, colored hair tends to be more fragile and delicate, often dry and lacking elasticity, shine and hydration. That is why, Kevin Murphy the firm of hair care products known for its DNA sustainable has developed a new range of products specially designed for those hairs in need.
The range is called Everlasting Color and has a complete product line for hair care at home out of 10.
EVERLASTING.COLOUR, a specific range for the care of color-treated hair
What makes this range very special is its innovative formulation capable of restoring and strengthening chemically treated hair and, at the same time, prolong color intensity and brightness . To achieve this, light formulas are used to seal the color and a Acid pH that prevents its loss, while repairing and protecting the hair from external agents. It should be taken into account that the sun's rays and the effect of external agents, together with frequent washing, are the main causes of color loss.
Hair cosmetics to care for color-treated hair at home
Kevin Murphy is known for always looking for a balance between science, technology and nature and for this range it has been achieved thanks to the presence of powerful natural antioxidants The products, as always in the company, are extracted from microcultures, ecological cultivation practices or environmentally friendly techniques.
Another very interesting fact about the range is that its products not only protect against alterations caused by environmental aggressors such as oxidants, free radicals and exposure to UVA/UVB rays, but they also help to maintaining the natural microbiome of the scalp . So we are talking about effective products but at the same time delicate and respectful with our hair.
Inulin, Chromatic Complex and ILLUMINATE Complex , the key ingredients of the Everlasting Color range.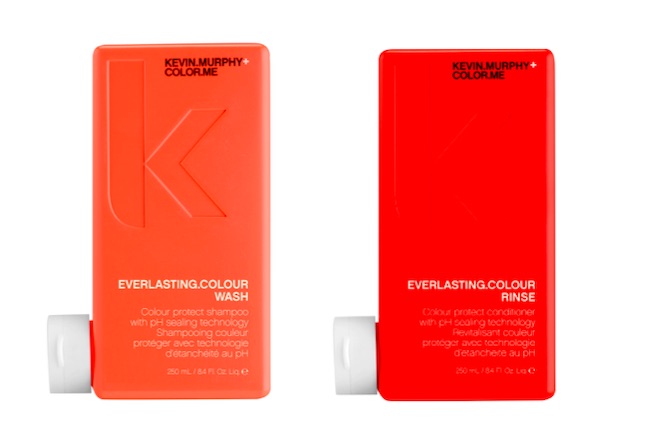 The hair care range consists of a shampoo and conditioner formulated with quinoa extract, hydrolyzed rice, natural phytic acid and inulin (chicory root extract). To these ingredients are also added CHROMATIC Complex, designed to help protect the hair fiber and promote color fastness to washing, and ILLUMINATE Complex, to improve hair shine and softness.
EVERLASTING.COLOUR WASH
Un mild shampoo designed to protect the color with color protection technology pH sealing (sulfate-free).
Its formulation works to close the cuticle to restore shine and help seal in color.
Format: 250 ml. P.V.P.R: 33 €.
EVERLASTING.COLOUR RINSE
Un acid ph conditioner which helps to add shine and improve the condition, softness and hydration of the hair by creating a protective layer against damaging environmental factors and color fading.
Format: 250 ml. P.V.P.R: 33 €.
Leave-in treatments to moisturize and repair color-treated hair
As we well know, the no-rinse treatments are always presented as the most practical and effective solution. They do not need rinsing, thus saving time and, in addition, as the product is not removed, they continue to act more intensely.
In the Everlasting Color range there are two leave-on products:
EVERLASTING.COLOUR LEAVE-IN
Un light no-rinse spray that does not dirty the hair but protects and cares for it. It is applied to damp hair after washing with routine finishing treatment to help preserve the color and protect the hair from external agents. Some of the main ingredients in its formulation are the hydrolyzed vegetable proteins (KM.BOND) which, by penetrating the cuticle, form a protective shield preventing breakage and strengthening the hair from the inside. Moringa oleifera seed extract, which helps repair, condition and strengthen hair, Inulin (chicory root extract), and ILLUMINATE Complex and CHROMATIC Complex.
RRP: €38
EVERLASTING.COLOUR TREATMENT
Un intensive treatment to protect hair from color fading to enhance its brightness and luminosity and strengthen it from within giving it an injection of protection and color resistance.
Its formulation is composed of hydrolyzed vegetable and rice proteins (KM.BOND), Panthenol, a long-lasting moisturizer loaded with provitamin B5 that, in combination with other ingredients, helps prevent hair damage and enhance shine and luster. RADIATE Complex and CHROMATIC Complex. In this case we are talking about a treatment to be applied from time to time to freshly washed damp hair.
RRP: €42
Tips on how to care for colored hair
Use specific hair products
It is obvious, but if our objective is to preserve our color we have to use specific products for this purpose.
Protects your hair from the sun and external agents
Together with washing, they are the main cause of color loss. Try to avoid sun exposure or protect your hair with specific products.
Limits washes
We tend to overdo the frequency of weekly shampooing, limit the washes to just enough to preserve the color of your hair and not to stress it too much.
Moisturizes and cares for your hair
Keep your hair hydrated and protected with masks, conditioners, finishing products and treatments.
For more info on the EVERLASTING.COLOUR TREATMENT product range kevinmurphyspain.com/everlastingcolour
---