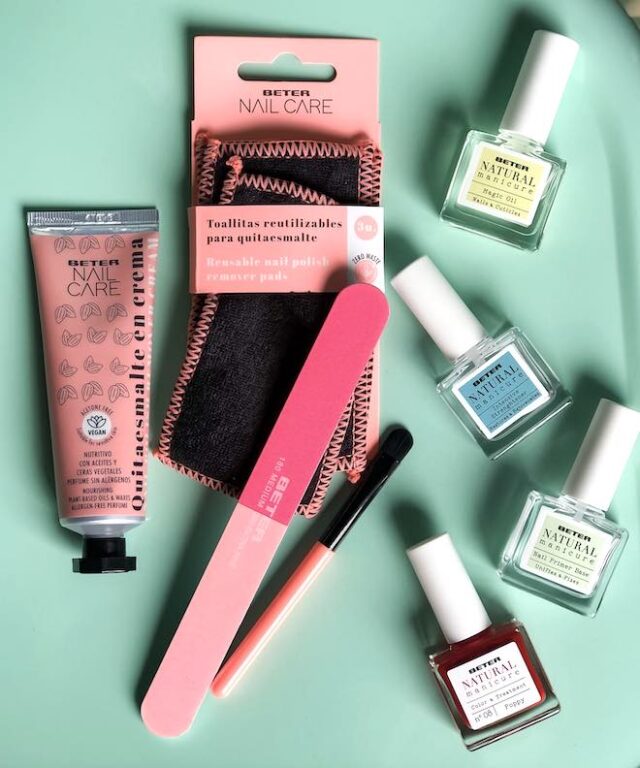 What is the difference between a conventional nail polish and a natural vegan nail polish?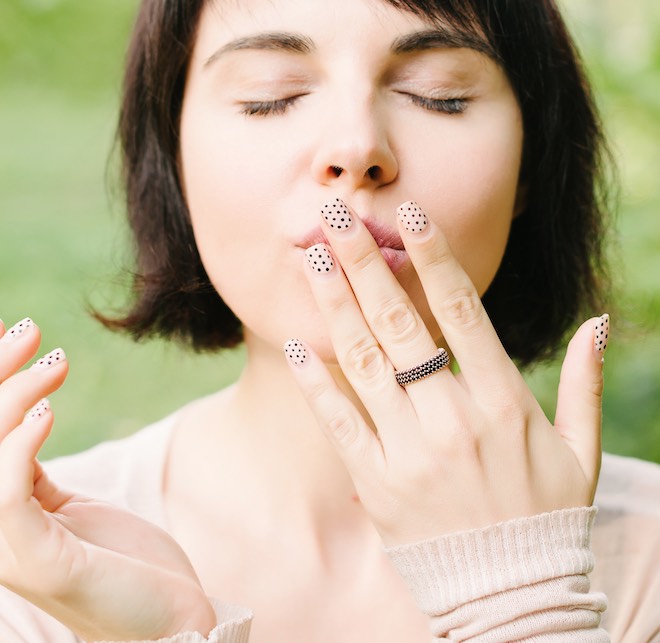 The big difference is made by the ingredients that are part of the formulations.
A priori, a vegan nail polish has not been tested on animals and does not contain animal ingredients. In addition, a vegan vegan enamel is environmentally friendly and with our fingernails . This means that it does not contain toxic and harmful ingredients for the nails. Nowadays it is very common to find 7 free or even 9 free formulations.
What is a 9 free enamel
The label 9 free means that in the formulation of the nail polish harmful chemicals have been eliminated that used to be present in conventional enamels. We are talking about: camphor, ethyl tosylamide, triphenyl phosphate, formaldehyde, phthalates, xylol, parabens, toluene, formaldehyde resins and any ingredients of animal origin.
In addition to that, instead of harmful ingredients, green polish formulations include nail care ingredients .
La Natural Manicure de Beter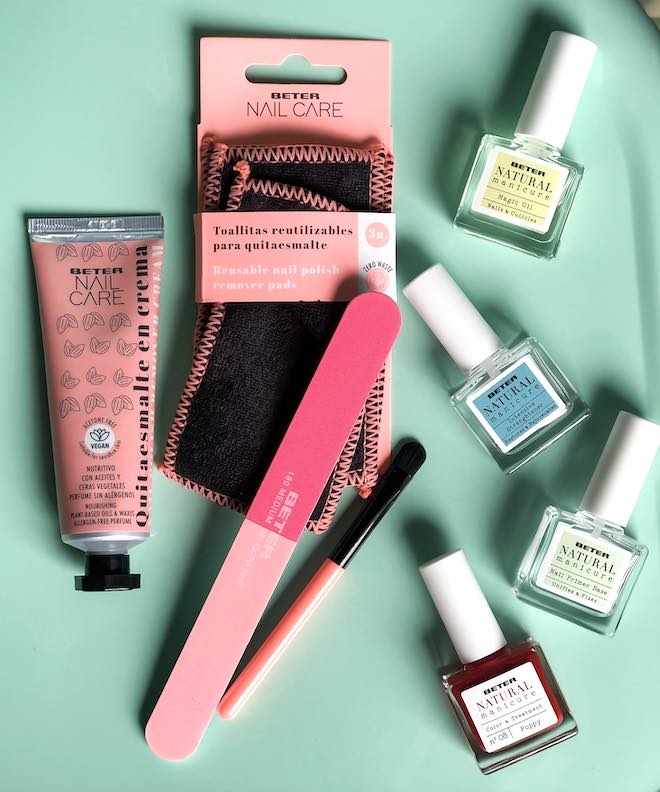 In terms of nail care, Beter is a benchmark and for some years now has also become a benchmark in the nail care sector. green beauty .
A few years ago it had already launched a line of 7 free nail polishes and now with its Natural Manicure it exploits the green concept to the maximum power.
Beter's Natural Manicure is the perfect representation of the maximum reduction of plastic and chemical assets and a great example of reuse and recycling . And all this with beautiful, bright and long-lasting colors, with nothing to envy to conventional enamels.
The vegan nail polish that cares for nails and the environment
Beter's Natural Manicure is composed of ten polishes and four treatment products.
Los stale are enriched with the Pro-Age Complex formula (with hyaluronic acid, vitamin C, and photoreactive plankton) with high anti-aging that in addition to giving color, care for healthy nails from the inside out .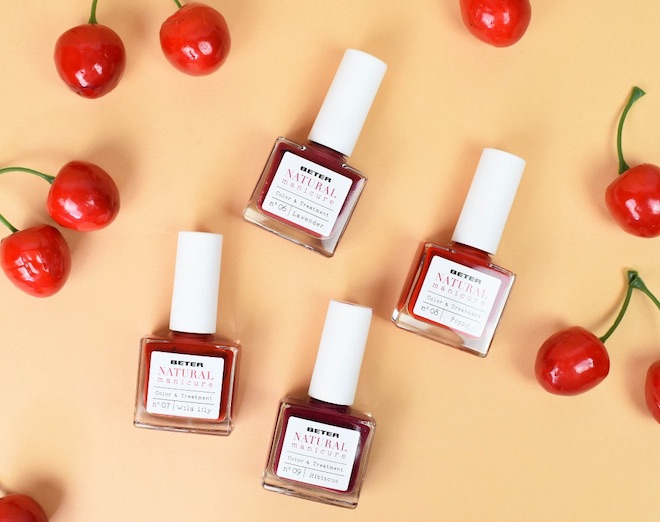 Another particularity of the nail polish formulation is the presence of hexanal, a component that penetrates the keratin of the nails and helps reduce microlamination. In addition, its formula is rich in calcium and magnesium and helps to remineralize the nail surface, while improving the durability of the polish.
In Beter's Natural Manicure polishes, a vegetable biomass made from wheat, cane sugar, cassava and corn partially replaces petrochemical solvents. These natural ingredients are transformed through environmentally friendly processes reducing the environmental footprint, according to ISO 16128 standards.
Beter's natural nail care treatments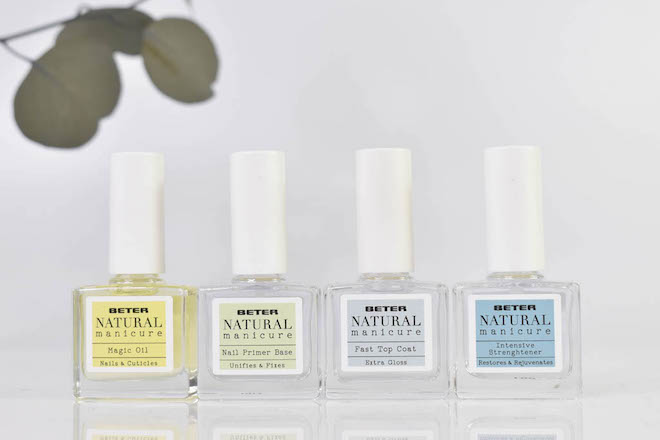 In addition to the enamels, the range includes four treatment products. All formulated with a minimum of 83% ingredients of organic origin.
Perfection Primer Base
It is a quick-drying perfecting base coat that unifies the nail surface, fixes the color and maintains it longer.
Its formula also protects nails from stains and yellowing.
Fast Top Coat
Free of nitrocellulose, it protects the resistance of the enamel for longer and provides an ultra-glossy finish. Prevents the enamel from peeling off due to friction or small knocks.
Magic Oil
Intensely moisturizes and nourishes nails and cuticles. Its formulation contains soybean extract (protects and strengthens nail fibers). Vitamin E (with anti-oxidants that help protect them from external aggressions), quinoa extract (softens and strengthens). And horsetail (remineralizes and restores the nail plate).
Intensive Strengthener
Thanks to its AHA (alpha hydroxy acids) content, it restores, rejuvenates and strengthens nails.
It is a very versatile product that can be used as a strengthening treatment, base or top coat.
Cream nail polish remover, a must-have for your green manicure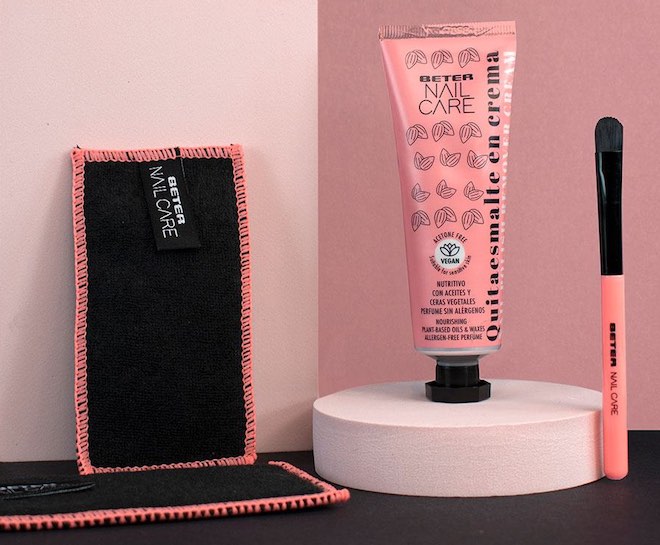 Often it is not the nail polish that damages the nails, but the products used to remove it. They dry out the nails and also generate polluting residues.
It's no secret that it's always best to avoid using overly aggressive formulations and avoid acetone. But Beter with its latest launch goes one step further. We are talking about a cream nail polish remover rich in vegetable oils that acts as a mask. .
So, not only does it not dry out the nails, it even keeps them soft and nourished. The nail polish remover is applied with the included brush. Leave it on for about 5 minutes and then remove it with Beter's reusable nail polish remover wipes. Obviously any wipe will do. But since we are talking about being very respectful with the environment, with this proposal we have a product to reuse many times.
To see all Beter Natural Manicure products: beter.es/manicure
---