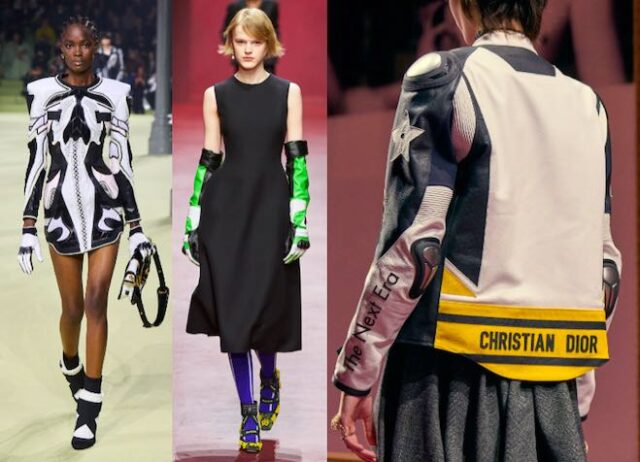 The new season is here and with it many new fashion trends that will mark this coming autumn winter 2022-2023. With the war in Ukraine in the background that marks a certain austerity, the revival of Y2K fashion driven by the Tiktokers, the aesthetics of the genderless as a social demand, the desire to dress comfortably as a post-pandemic residue, sustainability as the only alternative way to pollution and many more inputs; the result leaves us with many options to have fun playing with seasonal fashion trends.
In many cases we are talking about trends that come back, so if you are over 35 years old and you have bought good basics, maybe many garments are already forgotten in your closet. Being fashions that are repeated, another good option is to look for the trends of the moment in vintage clothing stores, we will have the real ones and we will have made a more sustainable shopping choice. Anyway, the good thing about when a trend comes back is that you only take the best of what it was at the time and adapt it to the new times, so everything becomes much more wearable without losing the fashionista point.
Fashion trends for this fall winter 2022-2023
UTILITY FASHION: CARGO & PARACHUTE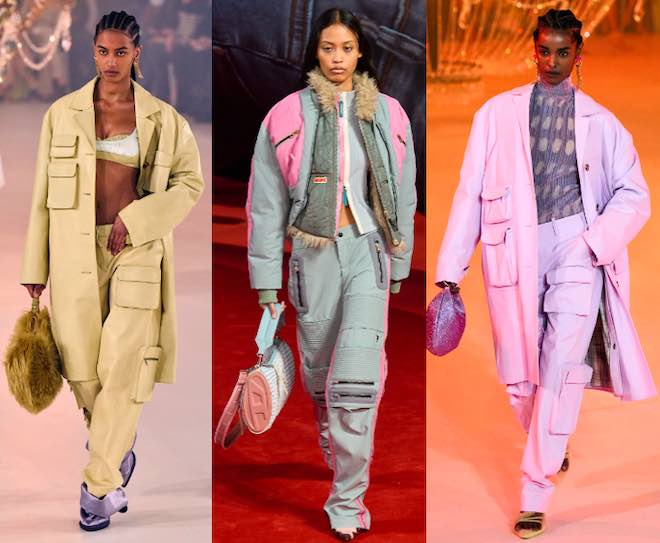 The clothing brings out its most functional side by using technical fabrics and filling up with practical pockets . Whether they are purely decorative or really functional is up to us to decide. The Utility fashion is trendy and the star garments are the cargo pants and parachute .
This winter, the iconic pants with side pockets, which have their origins in the 20th century British Army, are the new uniform for urban warriors. In addition to cargos, utility fashion brings us another garment. must have de temporada that is very comfortable: the parachute. These wide pants, made of technical fabrics with their elastic waist and drawstrings at the ankles are the trend of the moment and we have them in all the trendy colors.
MOTOMAMI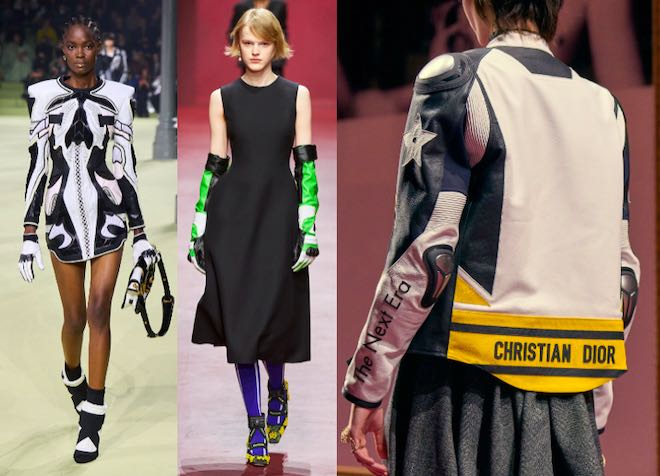 Fashion and music have always been closely related, so we can't say that the Rosalía phenomenon and her album Motomani have nothing to do with the return of the biker aesthetic. Leather, bondage, biker jackets with colored bands, padding, gloves and biker style boots are some of the main trends for autumn winter 2022-2023.
TANK TOP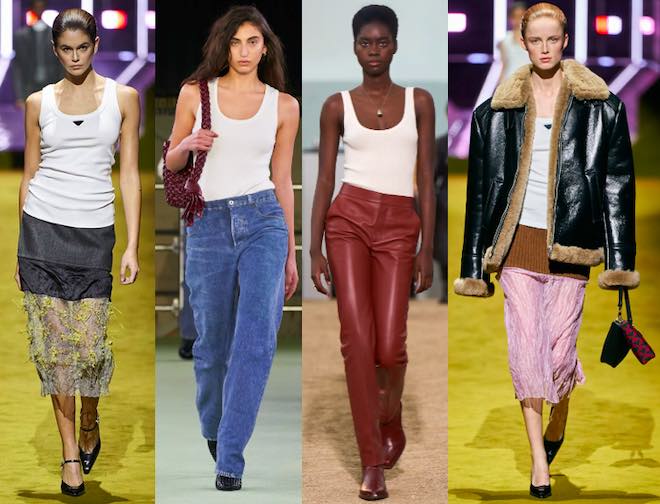 It sounds strange to say that it is fashionable to wear a white ribbed sleeveless t-shirt but that's what this trend is all about. This basic that has always been part of our closet this autumn 2022-2023 becomes an undisputed must have and, above all, must show .
It is worn under oversize blazers combined with wheel skirts, long pants and tailored pants creating that mix of comfortable and elegant garments that is so popular this season. And, when it's too cold to wear our white tank top, its substitute will be very comfy basic sweaters.
MINI very MINI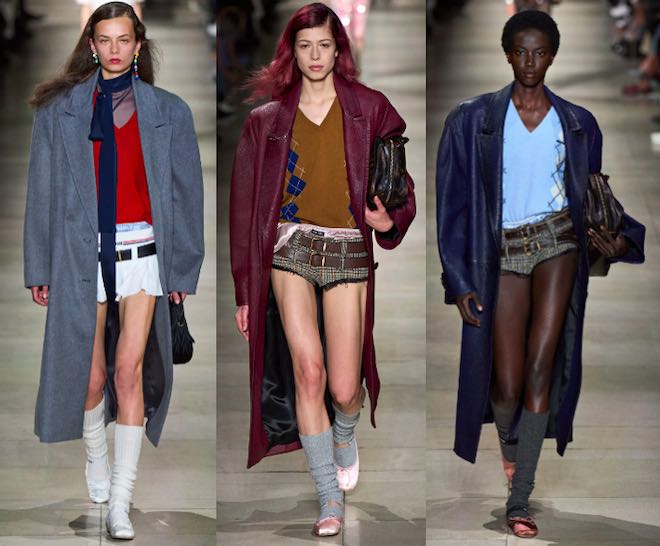 Mini skirts are decisively micro and very 2000 's, Y2K fashion is back, or very 70', also the seventies inspiration is very present this season. Mini skirts or micro shorts completely uncover the legs and are combined with maxi coats in a game of contrasts of proportions.
PINK (Fuchsia)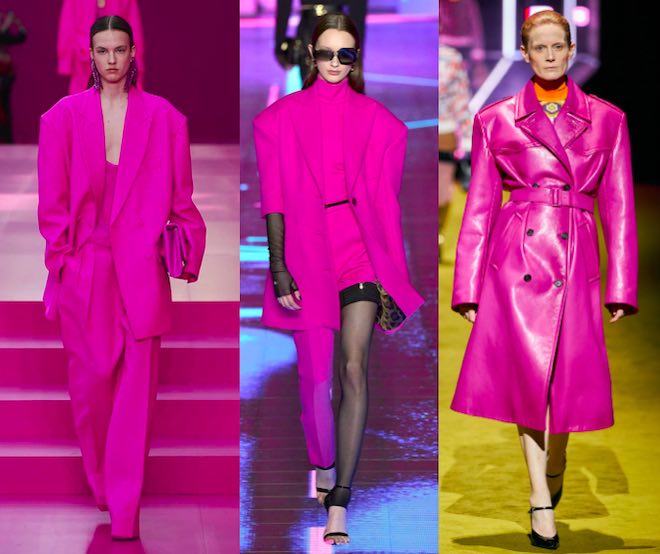 If this season were a color, it would be pink. Specifically the fuchsia pink Although the whole range of pink is trendy this autumn winter 2022-2023, and it is worn in color block. And if you do not like pink, all bright colors are suitable for the dopamine dressing This season, in the end it is all about taking advantage of the power of colors to lift our mood.
#Y2K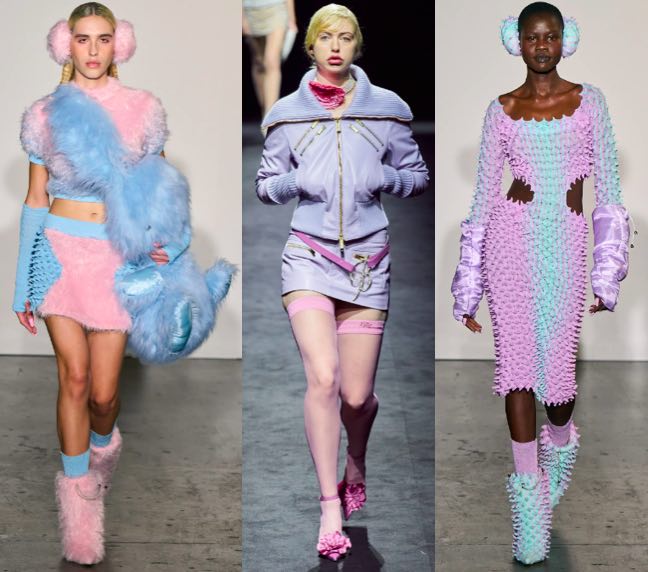 We could say that the main fashion icons of the 2000's are back. Cargo pants, parachutes and in general the wide leg low rise, miniskirts, bright colors, technical fabrics, bare midriffs, neon colors, cut out, overlapping garments, caps, playful jewelry, … The pure Britney Spears style aesthetic is trendy again.
CORSÉ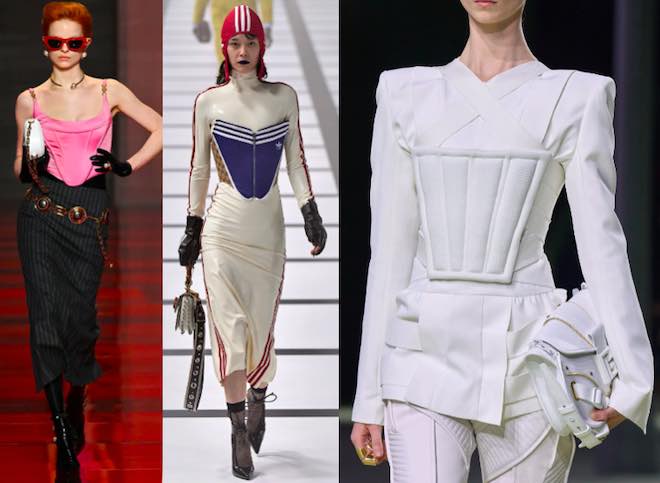 We are back to wear the bustier but totally reinvented and with a new use. It is used as a top or worn over shirts and t-shirts to give a trendy touch to our look.
AÑOS 70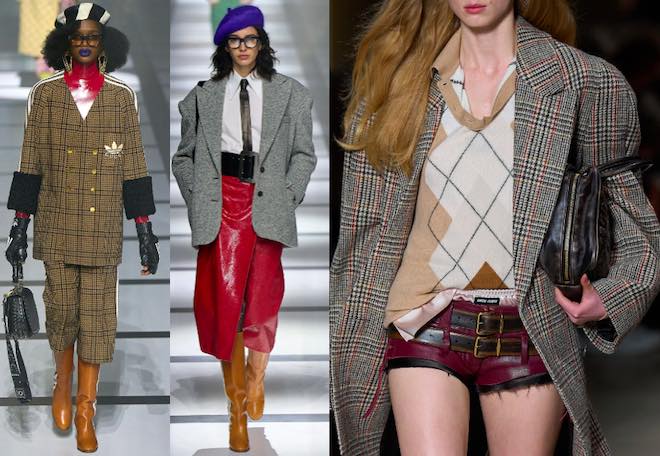 We have plaid and tartan blazers everywhere, velvet, corduroy, high boots, shirts (with ties), faux fur maxi coats, shoulder pads, capes, sheepskin jackets, … the references to the seventies are endless this season.
---
Images from the Fall 2022 Ready to wear shows from Vogue.com
---
7 jewelry brands adored by it girls that we all can afford