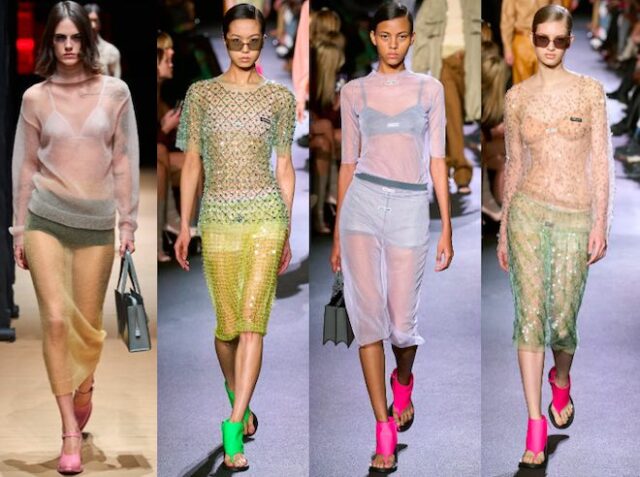 The main fashion trends that we will wear this spring summer 2023 summarized in 10 points.
The days of the cold are numbered, soon we will have spring here with its floral prints and many more. upcoming trends . We have seen them on the catwalks and we already have many of the main trends in stores.
We continue with the utility fashion trend so practical and stylish and we had already warned you that low rise pants were back with force. Transparencies, lingerie dresses and bangs will bring out our feminine side, while oversize blazers with shoulder pads and gothic style with a rocker soul will make us feel powerful.
10 fashion trends for spring summer 2023
1. UTILITY FASHION : CARGO PANTS AND POCKET MANIA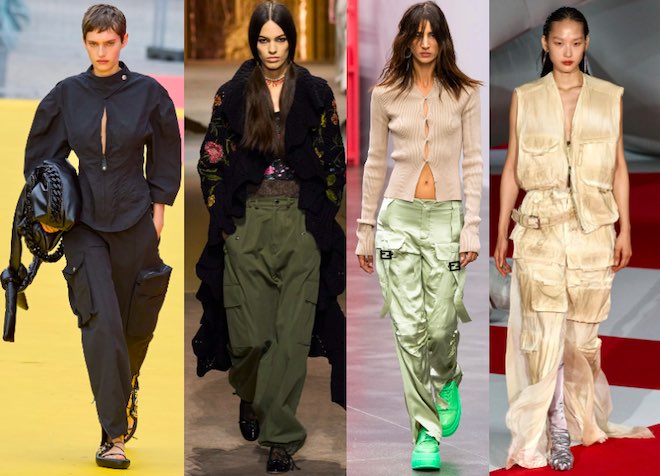 Pants and jackets are filled with pockets, we continue with the gorpcore and cargo pants continue to be the star of this trend. If you still don't have a pair in your closet, you are already late, we will probably continue wearing them for a few more seasons. In addition to cargo pants, the utility fashion trend proposes jackets, gilets and belts with practical maxi pockets to make us forget to carry a bag.
2. FLORES 3D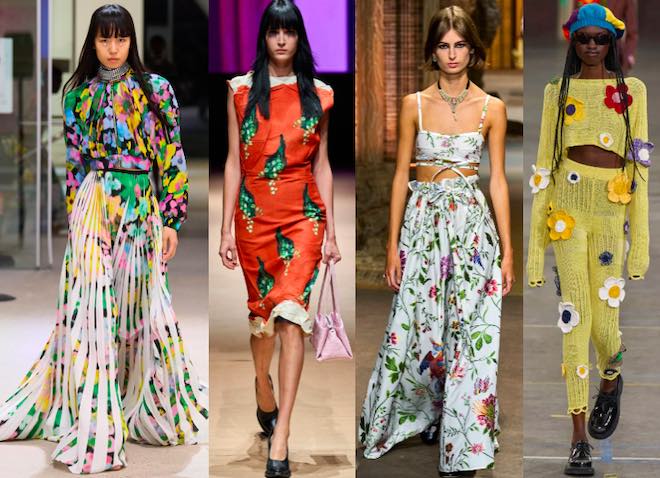 Nothing new, there would be no spring without flowers. But the pv 2023 fashion is made of very large flowers, they have 3d effect or are decorated with paillettes and are worn all over. Even different types of flower prints are combined in the same look.
3. TIRO BAJO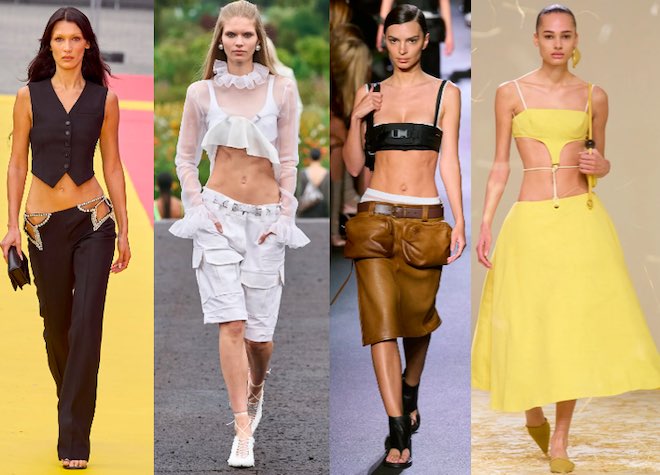 After years of high or very high waists, it's going to take some getting used to but low rise pants are back The Y2K aesthetic, like the vast majority of the most iconic elements of the Y2K aesthetic, and this spring summer they are definitely a trend that will be worn on the street. Ready to show your belly button again? In general the trend is to uncover this area of the body, we also see it in the strategic cuts of the cut out dresses so fashionable.
4. LENCERIA in SIGHT and TRANSPARENCES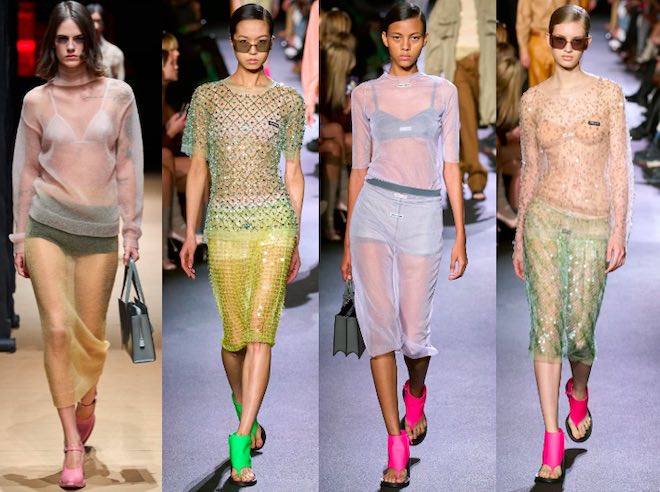 On the one hand, we have the fashion of wearing lingerie style garments The collection includes delicate satin dresses, silk tops with precious lace embroidery, pajama-style sets and details that are more typical of a lingerie set.
On the other hand, the maxi transparency trend A fashion not so easy to wear, but this season comes stomping. But be careful, the ones that are worn are transparencies. sophisticated that result subtle and elegant . Ideal to opt for light tones or fashionable pastel colors.
In the end, by wearing one trend we will wear both. Under these delicate dresses or these transparent sets: lingerie dresses, tops, corsets, bralettes and culottes. The star combination: transparencies + satin.
5. DENIM Y2K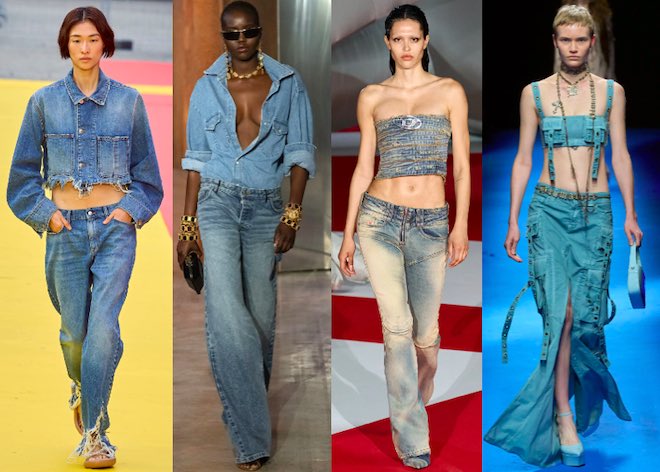 Worn, low rise and total look . Jeans are a basic that never goes out of style, but trends do have a great influence on how we wear them.
The fashion of this spring summer 2023 is very Y2K aesthetics with wide or bootcut pants worn or even torn. Also free rein to jewel applications, studs and upcycling. The most trendy jeans are low-rise and the must-have garment of the season is the long demin skirt.
6. CONTEMPORARY GOTHIC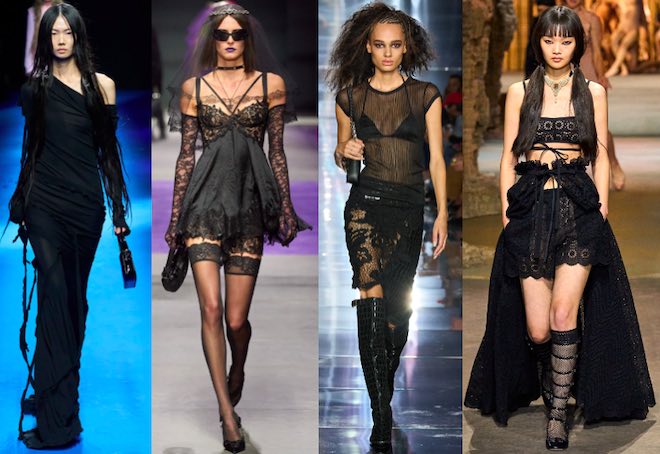 If you've watched Tim Burton's 'Wedsnday' series on Netflix you know what we're talking about. It's a all black, lace, transparencies, platforms and lots of attitude. .
For this season, the gothic style is reinvented in a contemporary key and also acquires a rocker air as we have seen in the Versace fashion show. Gothic or not, it is not really a color related to the good season, this spring and summer we'll dress in black . It is a bit of a response to the complicated times we are living and, along with gray and more neutrals, it will be one of the colors we will wear the most.
7. MINIMALISMO 90′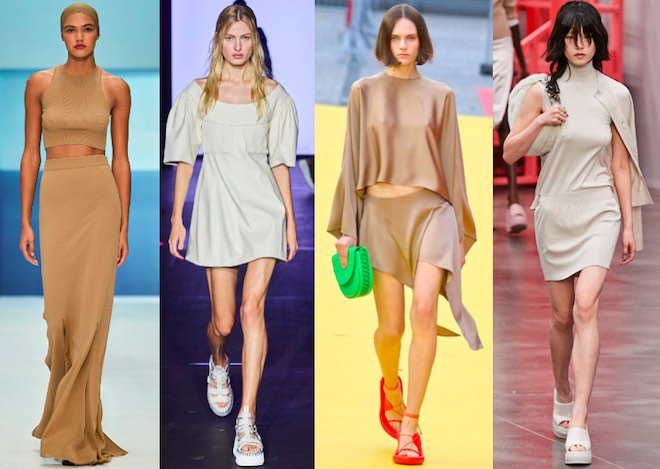 It's a return to basics in which the key is to follow the rule less is more . The inspiration is the 90's, the colors are neutral or black and white and the key garments: white shirt, oversize blazer, white tank top and the straight cut dresses and pure lines. You can not miss in our closet a long plain dress, essential and elegant.
8. BLAZER WITH SHOULDER PADS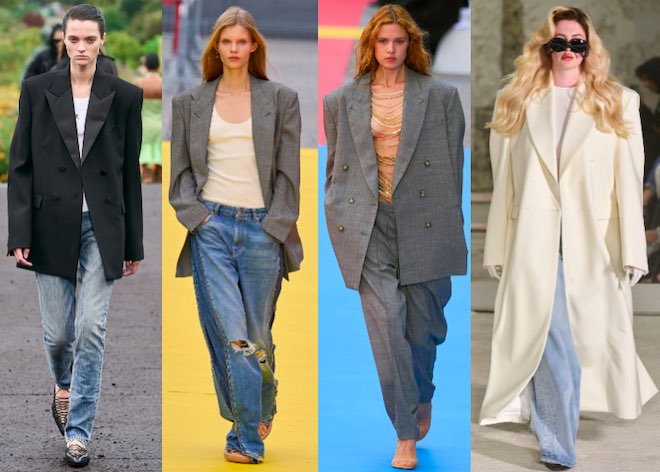 We continue with the fashion of wearing masculine style clothes, being the suits the star garment of this trend. The novelty is the shoulder pads of the blazers that are strongly imposed as a trend. So oversize blazer with shoulder pads to join one of the most stylish fashion trends of spring summer 2023.
9. FLECOS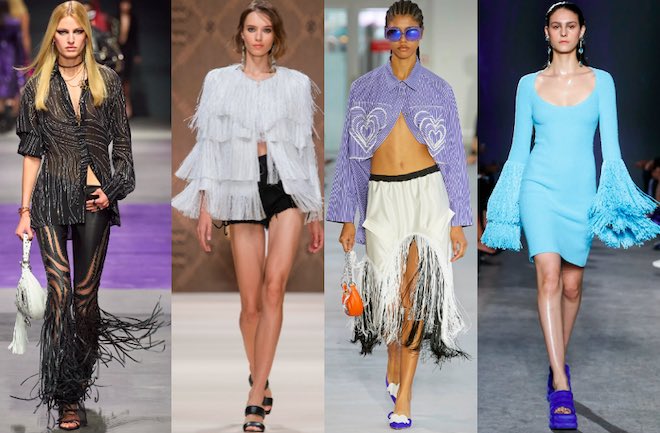 In their most extravagant version or as a subtle decoration, bangs are back on trend. With an air of folk or with aesthetics boho They have the power to bring that scenographic touch to every movement and give a lot of personality and character to our outfits.
10. GREEN I WANT YOU GREEN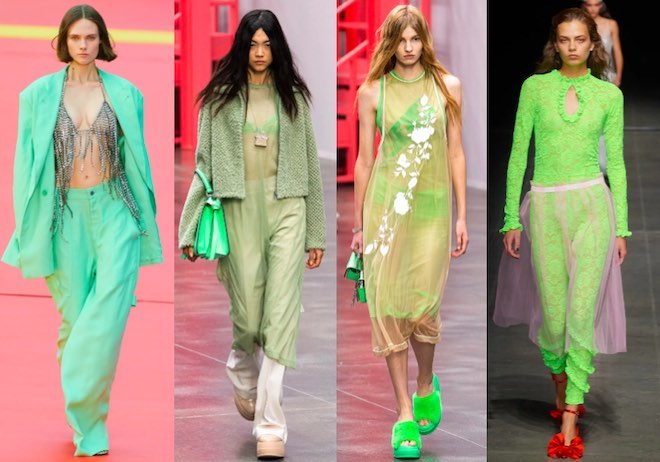 We continue with Barbiecore pink, we have the fashion of pastel colors and on the catwalks we have not stopped seeing cobalt blue, light blue and red. But, if we have to associate the trends to a color, this would be green. Delicate mauve, powdery aqua green or bright fluorine dye, bet on giving a green touch to your most fashionista looks. In total look for the most daring.
Photos of the catwalks at www.vogue.com
---