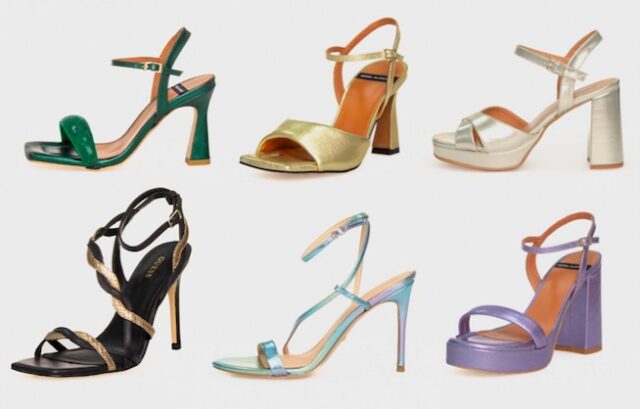 With the arrival of January comes not only long-awaited moments such as sales. We can also see garments for the new spring and summer seasons. In footwear as well; and there are many firms that are already taking out the heavy artillery with everything that will be worn in the coming months. For example, the new season of women's sandals has already arrived at Kamome, and as we can see, what the new season has in store for our footwear is really interesting.
Gladiator sandals
Last year at this time already began to appear. This is a very dosmilera trend, something that is not surprising, considering that in fashion in general we are seeing a lot of return to that time. This spring-summer we will see many sandals of this style. Options that stylize the leg and that will appear in their most classic versions. Even with asymmetrical designs and metallic textures full of shine.
Franciscanas or crabs
Another trend that is making a strong comeback is that of the franciscanas or cangrejeras . The truth is that they are a classic that never goes out of style This season, however, we will see him even more present. Sandals that are halfway between an open and closed shoe. They are an ideal option to keep your feet cool but without losing elegance. They are really versatile and look great with all kinds of clothes. If we know how to combine them, it could be a sandal for every day, from an informal lunch to go for a walk on the beach. Although they are a shoe for all body types, they really suit women with long and slender legs. In addition, they are ideal to wear with long skirts, as well as with the most colorful summer dresses.
The Mule with heel
It is not a sandal as such, but the truth is that the mule model is a shoe that we have seen a lot last summer and that we will see again this spring. This year, in addition, we will see a slight but important variation: the mules with altura . Now we will see mule options with wide heel and even with platform, so present in other footwear trends.
Strappy sandals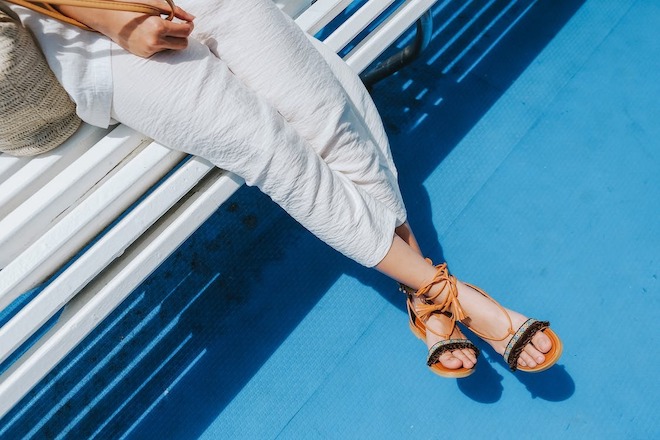 Las flat-soled sandals will continue to have a place in our closet . So will those with a thinner heel. In fact, it won't matter the type of heel we use if we opt for strappy sandals; and they are another of those trends that are back with a lot of force. Sandals with very long straps that are able to wrap completely around the leg. A variant of the gladiator sandals that will create much more classic and elegant looks.
Sandals Flip Flop
Flip Flop sandals have long since ceased to be a type of footwear exclusively for the beach. These toe sandals have seen a change in the material of their soles and now we can find models with enough hardness to withstand our day to day. However, it is important to combine them well. In addition to shorts and bikinis, these sandals can be present in our daily outfits, but better with intermediate lengths. We can wear them with ankle pants, for example, or with knee-length skirts.
XXL buckles
If we have something clear, it is that in the footwear and fashion trend in general is betting on the maximalism . This is why the love of platforms . In addition, if we want our sandals to become the center of attention, and the protagonists of our looks, we can also bet on sandals with XXL buckles another trend not suitable for the most classic.
Going for silver
As for colors, while it is true that there will be no problem in having all kinds of shades, giving priority to bright colors, silver will be a summer hit for the evenings this summer . Silver sneaks into party shoes, but it will also sneak into low sandals. It's good news; and we love this touch of shine for any spring and summer look.
Shakira style platform sandals
Finally, we can not fail to mention the trend that comes stomping with force. We are talking about the platform sandals . Models with a strong presence that have popularized several artists. For example are Shakira's sandals, which she wore in several images just at the time when she went to shoot the video of her latest and controversial theme. Sandals with a very striking color and with a large platform that do nothing but become the key piece of any outfit. These sandals, known as chunky sandals they are really comfortable. In addition, they are very interesting models for women of short stature when they want to gain a few extra centimeters. Best of all? That with trends like flared pants, you can hide a lot without being noticed that we wear that platform.
---