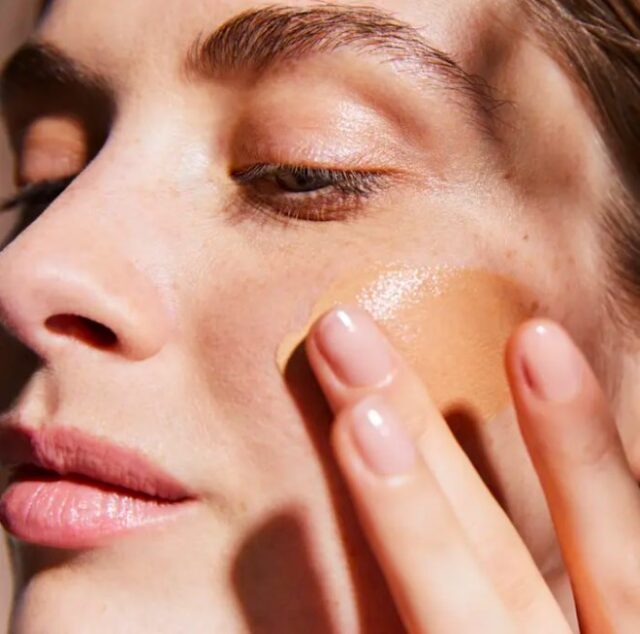 During the good season, the color sunscreens become the best alternative to foundation products . These creams with color and SPF provide us with the perfect two-in-one: they are lighter than a foundation but with more sun protection.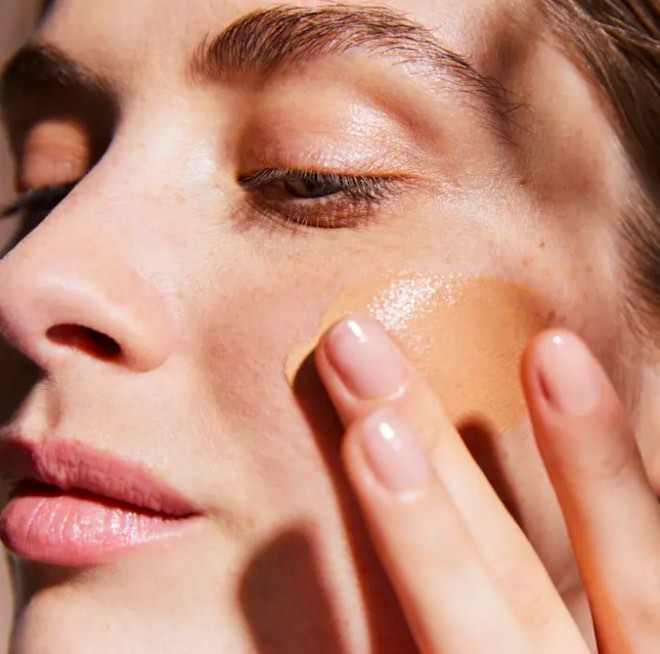 Normally, make-up foundations usually contain some photoprotection, but in the case of tinted photoprotectors we are practically always talking about a SPF of 50 . There are also colored sunscreens with SPF 30, but it is really advisable not to go below 50, especially in summer.
In terms of coverage, it is true that they are not comparable to a foundation. But they do achieve unify the tone and give us this good effect face that we love so much. In fact, more than with foundation, we should compare tinted sunscreens to BB Creams and think about the fact that summer is asking us for light textures and let our skin breathe as much as possible.
In the market we find an infinite number of options, my recommendation is to go for pharmacy/parapharmacy products or high-end cosmetics. Here are my favorites.
Photoprotectors with color to protect us from the sun and give us a good face effect.
---
AVENE – Mineral Sun Fluid with Color SPF 50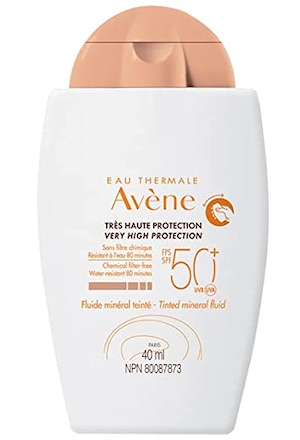 Generally, when we talk about sunscreens, we talk about chemical sunscreens. The physical ones are usually used in sunscreens for children, those typical creams that we all know for being somewhat thick and leaving white spots. The reality is that a physical or mineral sunscreen is not the best option for a baby alone.
It is also the best alternative for sensitive, reactive and intolerant skins . And the good news is that the formulations and finishes of these types of solar have evolved a lot.
The perfect tinted sunscreen for the most sensitive skins
Format 40ml – P.V.P. 15€ – to buy on Amazon
Speaking of colored sunscreens, from Avene we get this one mineral fluid with color SPF 50+ an alternative to chemical filters, especially indicated for the most demanding skins. In spite of being mineral, it has a fluid texture that adds color, evens skin tone and hydrates the skin .
Compared to other tinted sunscreens, its texture can be a bit more full-bodied, but depending on skin type, this can actually be an advantage. It also provides a little more coverage, while maintaining a natural finish, with that touch of luminosity that many of us need.
In this case there is only one tone and the color matches skin tone . It is a light color, on their website they indicate that it is suitable for phototypes 1,2,3 and 4. I can't guarantee the latter, but for the first three, there is no doubt that it works very well.
I like mineral filter and has nothing to envy to the chemical ones.
No me gusta I really like this product. But you have to take into account that, depending on the type of skin, the finish can be too shiny and/or the texture can be too full-bodied.
---
ISDIN – Fusion Water Fotoprotector con Color SPF 50
This Isdin photoprotection stands out for its ultra fluid texture . Its ultra-light formula provides a touch of color, evens out the tone and provides the desired good face effect . The interesting thing about this range of solar is that they have brought out three different colors : light, medium and bronze. In this way they cover the various phototypes or the various tanning moments of our face.
The perfect tinted sunscreen for those seeking imperceptible formulations and invisible textures
P.V.P. 20-25€ in Amazon
The texture is so light that it looks like water, it melts perfectly with the skin. But, in spite of them, it does provides some coverage . In addition to protecting us from UVB and UVA rays (SPF 50).
It should be applied half an hour before sun exposure (like all chemical sunscreens). The finish is super natural and is perfect also used as a first step before makeup.
I like The range has 3 shades, adapting to the skin tone guaranteed.
No me gusta The finish can be too matte and dull the face. The texture is really very very fluid, you have to apply it several times to get some coverage.
---
Montibello – Sunage Water Colour Fluid SPF 50+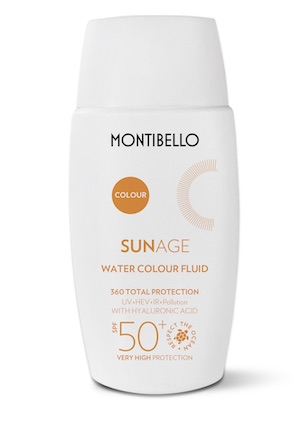 With this product, the cosmetics company Montibello gives a significant added value to the tinted sunscreen the anti-aging effect. This ultra-light fluid is formulated with hyaluronic acid which, in addition to protecting the skin and providing a good-face effect, also repairs and moisturizes it.
The color sunscreen that works as an anti-aging cream
Format: 50 ml. RRP: 35,90 € – buy at Montibello
In fact, this tinted fluid is part of the Sunage sun care range. A range of products designed for protect us from the sun and fight against aging at the same time.
Sunage sunscreens feature an innovative combination of broad spectrum UV sunscreens (including blue light) and an innovative active ingredient to effectively counteract the harmful effects of the sun and the environment.
In addition, all Sunage solar systems are equipped with the sello Respect the Ocean i.e. they are environmentally friendly formulations and packaging.
I like photoprotection, good face effect and anti-aging treatment in a single product
No me gusta The color is quite dark, it totally adapts to the skin but provides a tanned effect. Perfect in summer time but not as urban as the other options.
---
Avene Tinted Fluid SPF 50+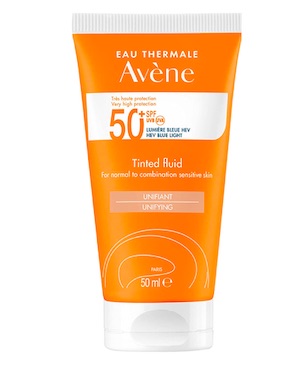 This year, Avene has launched an updated version of its popular tinted sunscreen . With SPF50+, a new ultra broad-spectrum sunscreen that protects from sunburn. UV and blue light radiation and a more environmentally friendly formulation.
The perfect tinted sunscreen for combination and oily skins
In addition to its renewed formulation, the interesting thing about this fluid is that it is suitable for all skin types. Also for sensitive, combination and oily skin.
In this case, this sunscreen has only one color, a light shade that adapts well to different skin phototypes (from I to IV). The finish is nude skin effect with that beautifying touch of a unified complexion, without shine but without powdery effect.
I like is a versatile product that can be used both as a sunscreen and as a make-up base.
No me gusta The texture may be too liquid, as it is a fluid. In case of dry skin, opt for the cream version of the same range.
---