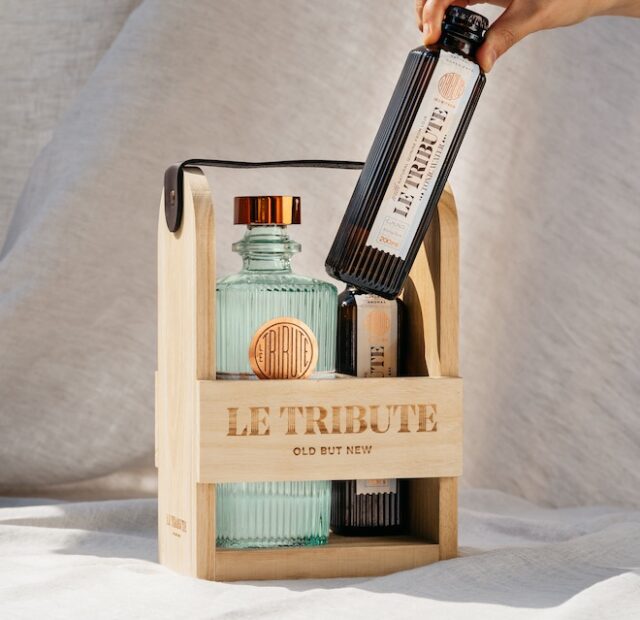 Le Tribute, the premium gin that fuses tradition and innovation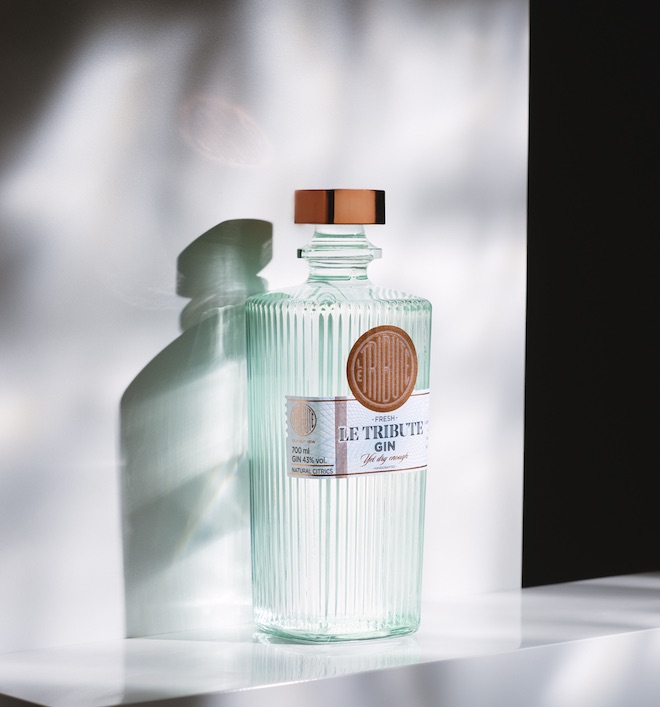 Le Tribute is a premium spanish gin which is born as tribute to the founder of Destilerías MG for the purpose of rendering tribute to all the heritage and tradition that this distillate represents. . What makes this gin a special and exclusive product is the harmonious combination of a fresh but sufficiently dry and aromatic taste in a balanced way. We are talking about the top range of a premium distillery, so in this case we have all the best concentrated in the same bottle.
Le Tribute gin is made with premium natural ingredients and its unique and elegant result makes it stand out in the market for its innovative character.
A gin with a unique formulation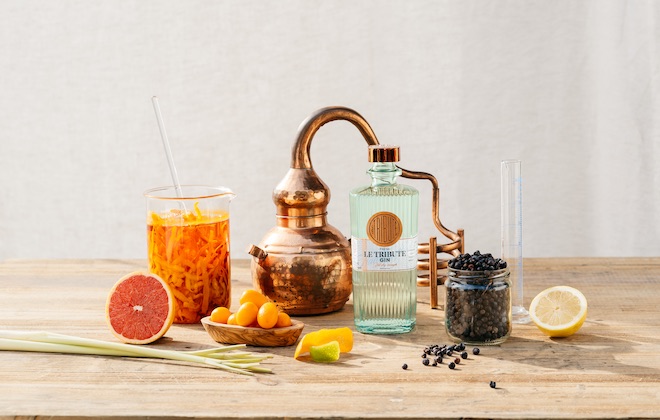 To create Le Tribute, a base of wheat and barley alcohol of the highest quality is used, to which is added a hand-selected botanicals that are macerated by hand at the distillery .
Las juniper berries are hand-picked when ripe on the Giró family's rural property in Teruel. The lemongrass is distilled with water instead of alcohol, and the naranyas of Valencia and the lemons of Seville are macerated with coriander seeds . To find a balance between sweet and bitter, the following are combined three different types of grapefruit and to provide acidity and freshness we add the kumquat a citrus fruit native to China. The sweet touch is achieved with the mandarina Mediterranean while the lima is responsible for bringing a rounded freshness to the beverage.
A premium gin with a bottle reminiscent of old-fashioned medicine bottles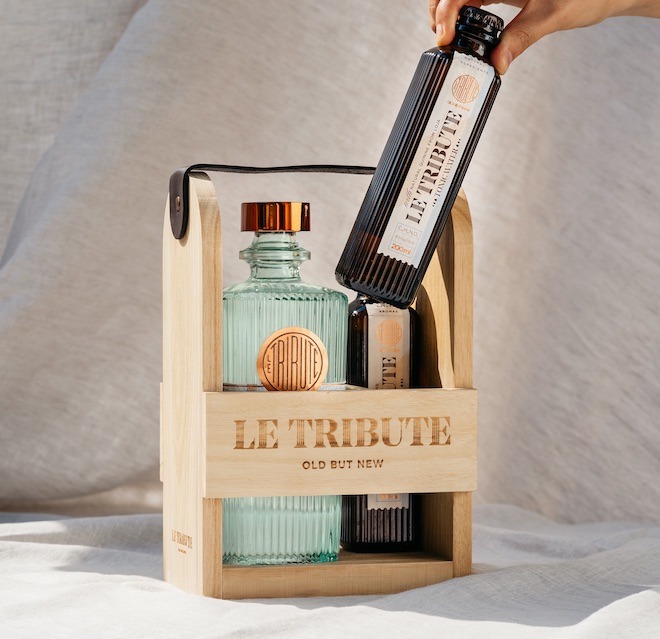 There was a time when gin had a medicinal use and Le Tribute pays tribute to this historical memory choosing a botella that by its design reminds a little bit of these old medicinal containers . The very elegant and sophisticated bottle is characterized by its square section design with rounded vertical grooves. The result is a bottle so beautiful that, in addition to its contents, it is a decorative object that blends retro aesthetics with contemporary techniques.
The distillate for medicinal use that became the trendy premium drink
The gintonic was born to celebrate the victories of the British troops in India, a British officer proposed to add gin to the tonic to make an alcoholic mix.
When the soldiers returned to the United Kingdom, they began to ask for the combination in the clubs and immediately the gin & tonic began to be identified as the drink of the heroes of the East and its consumption became widespread internationally.
A curious fact is that before the creation of the combination of tonic and gin, the use of this alcoholic distillate was mainly related to its alleged therapeutic and medicinal properties.
Actually, from the moment gin and tonic was invented, we have never stopped drinking it, but in recent years the way we drink it has changed a lot.
The traditional cocktail that became the most fashionable cocktail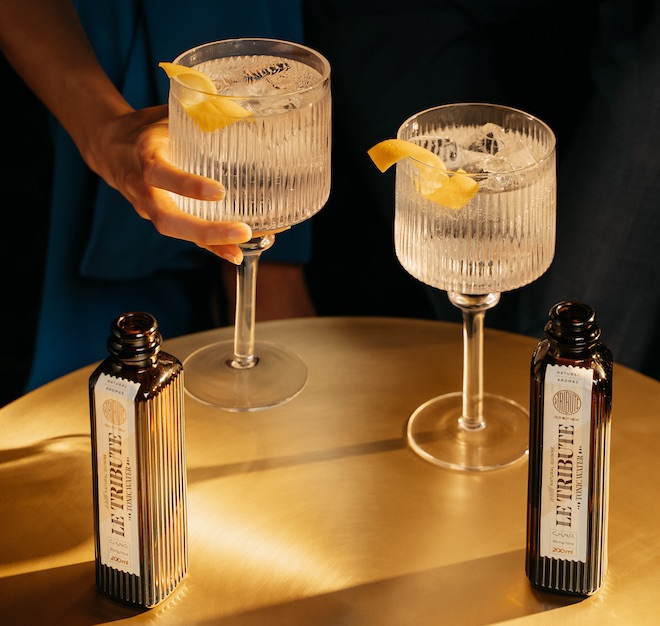 For a long time the gin and tonic was considered a simple drink in which a tonic was mixed with a gin, until the fashions made this 'simple drink' was elevated to another concept. Nowadays, it is the most common drink to be ordered and its perfect serve is more comparable to the high signature cocktail than to a simple cocktail. Its popularity is so great that since 2010 we have even had the International Gin & Tonic Day which will be held on October 19.
Despite being a very traditional combination, gin & tonic is a very modern drink and never before have we been so sybarite when choosing the gin, tonic and accessories for our drink.
For these new consumers of the great classic of cocktails, we now find in the market products of extreme quality that have made gin a premium drink without rivals.
Just playing with this fusion of historical heritage and totally contemporary essence The gin is a classic but modern combination that has given birth to innovative products such as Le Tribute gin, which pays tribute to the pioneers and traditional processes by presenting something totally innovative.
El perfect serve del Gin&Tonic de Le Tribute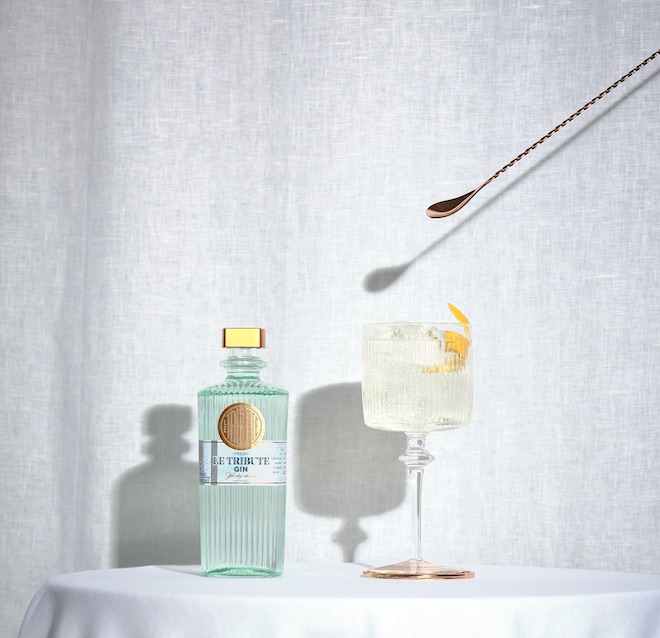 With a gin of this level, the tonic that accompanies it could not be less. With ingredients such as natural quinine from Loja of Ecuador, known for healing European kings such as Louis XIV of France or Charles II of England, and a distillation of lemongrass in water Le Tribute Tonic Water is a tonic with a unique and exclusive flavor. Its water comes from a manantial natural from the same distillery, which is filtered through a innovative reverse osmosis process which achieves a wider and longer lasting bubble that provides the optimal amount of gas for our perfect gin & tonic.
For its elegant perfect serve, Le Tribute adds ice and a grapefruit twist to its gin and tonic.
Le Tribute Tonic Water also has a very special bottle to match the gin. . In fact, it can boast of being the first carbonated beverage on the market to have a square bottle shape . Its dark amber color and striations are also a nod to apothecary bottles and, in particular, to the original medicinal use of its star ingredient, quinine.
Le Tribute, a tribute to the excellence of a historic Barcelona distillery
MG Distilleries was founded in 1835 in Vilanova i la Geltrú, Barcelona. From its beginnings they have been dedicated to the production of liqueurs, syrups and carbonated beverages until they in 1940, they began to specialize mainly in the production of gin. . Currently they have managed to achieve a great prestige at national and international level for the quality of its products being Le Tribute the range in which represents all its excellence.
---