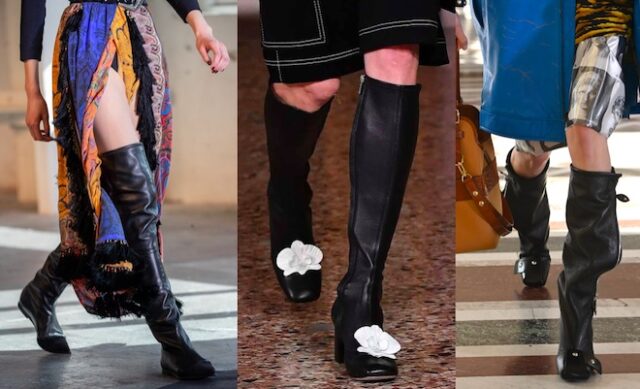 The 6 big trends in shoes that we will wear next fall winter 2021-2022.
Comfort, minimalism and also a lot of glam and femininity but, above all, a lot of personality. We still have a lot of summer to enjoy, but we already know that when it's time to take off our sandals, these are the shoes we will want to wear.
In terms of trends, next fall winter 2021 season we will continue to coexist with these two opposing macro trends that on the one hand continue to propose the comfort and homewear style that we have become accustomed to wearing during the pandemic and on the other bring back all the glamor of high heels that we have missed so much in this time of confinement.
COZY SHOES

COACH – Fall 2021

We have become accustomed to being comfortable and now it seems difficult to give up mules, clogs , slippers, slides and all the sandals style ugly we have been wearing during the summer. The good news is that they will continue to be trends also in OI 2021-22, they will be adapted to the season with furry linings and finishes.

PLATFORMS

Moschino – Fall 2021

They have been one of the big trends of this summer and will continue to be the favorite choice of all those who do not want to give up comfort to go up a few more centimeters, they are also the most trendy.
Ankle boots, chelsie boots, mary jane, military boots, moccasins, socks boots and even sneakers, this OI 2021-2022 all types of footwear are proposed in platforms version for which they are looking for this compromise between trends, height and comfort .

COMBAT & RIDING BOOTS

MiuMiu – Balmain Fall 2021

In stores and online shoe stores we are starting to see them and this coming winter they will be of equestrian, military or snow style These performance boots, originally designed for activities, are all the rage. They are boots for the cold at a time when we have become accustomed to change the urban walks with excursions in the suburbs so this trend is perfect for us, in fact it is the result of a new need.

SLOW FASHION

During the pandemic we have realized that we don't need so many things and we have started to value more and more the importance of buy little but good . This sensitivity to the slow fashion and the proximity product has now become one of the macro trends that will also continue to mark the next OI 2021-22.
For these comfortable shoes that we want to keep with us for a few years, we prefer noble materials such as leather, handmade finishes and of course, Made in Spain label. This trend of slow fashion finally rewards these Spanish companies that have wanted to bet on a quality local production as Chacal shoes models and many others who have not surrendered to the phenomenon of fast fashion.

HIGH BOOTS

ETRO, GENNY, LOUIS VUITTON FALL2021

Style shorts of skin or type sock boots The knee-high boots are a maxi trend of the winter. In black and with bows, platform, with applications, flat or square heel, the high boots are versioned merging a little with the whole trend, the important thing is that they are high above the knees.

EXTRAVAGANZA

VETMENTS, PRADA, VICTORIA BECKHAM FALL2021

Metallics, paillettes and fashion colors, the key of the fall winter 2021 2022 footwear trends is to express our personality. We may not be innovating in terms of models but the trends invite us to play with shiny finishes, vinyls and pailleres that make our shoes authentic jewels with which it is impossible to go unnoticed.
---