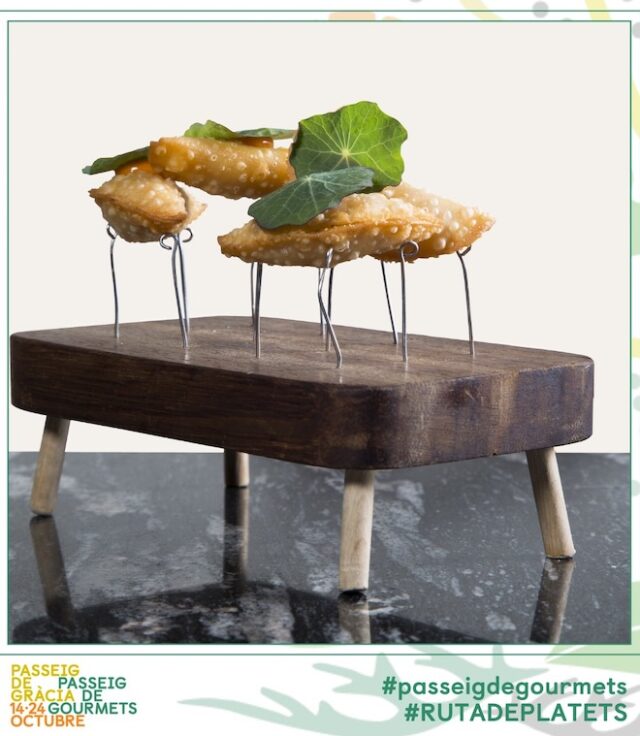 From October 14 to 24 the gastronomic festival Passeig de Gourmets returns with a route of 13 dishes along Paseo de Gracia.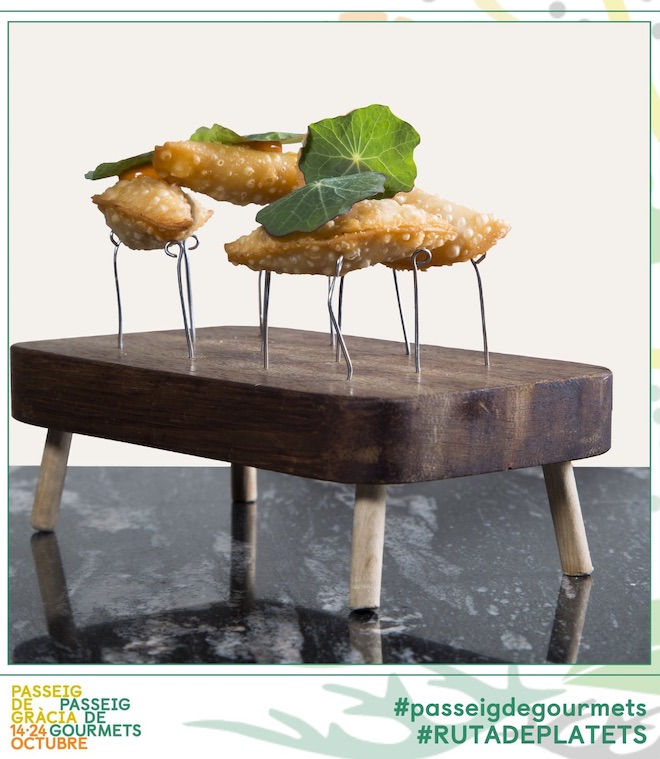 With its outstanding selection of participating restaurants and a fixed price of 7€ for one dish plus drink (to choose between Estrella Damm, Juvé & Camps, Coca-Cola or Royal Bliss; sponsors of the event), the gastronomic route organized by Passeig de Gourmets is the perfect opportunity to savor various proposals of signature cuisine.
La Dish Route is part of the gastronomic initiative Passeig de Gourmets which, in addition to this culinary tour, offers during these days tasting menus, gourmet experiences and 4-hands nights. The Ruta de Platillos is the most informal proposal of the festival, a gastronomic tour that each foodie can organize to measure choosing from the proposals of the various restaurants. To try the dishes of the route is not necessary to book in advance, just check the opening hours of each restaurant.
It really is an opportunity to get to know the various restaurants and surprise the palate with the proposals that chefs like Nandu Jubany, Carme Ruscalleda or Rodrigo de la Calle, have prepared for the occasion. In fact, the Passeig de Gourmet festival initiative was also born with the aim of bringing the Barcelona public closer to these restaurants.
The dishes that can be tasted on the Ruta de platillos of Passeig de Gourmets

Virens (Almanac Barcelona): kimchi dumplings
Cafè de la Pedrera: salmon tartar, goat cheese and melon flambé with aioli mousseline and truffled honey
H10 Casa Mimosa: veal mellow cannelloni with truffled bechamel sauce
Cafè Vienés (Hotel Casa Fuster): duo of baby squid croquettes with garlic cream and cured Iberian pancetta and chicken and foie roast with Figueres onion béchamel and caramelized onion.
The Bar of the Majestic (Majestic Hotel & Spa): our pâté en croûte
Banker's Bar (Mandarin Oriental, Barcelona): mussel and mushroom marinade
Hall0 (Monument Hotel): smoked eel and prawn brioche
Restaurant Ametller Origen – Casa Seat: meloso de ternera con parmentier de patata
The Bistrot (Santa Eulalia): artichoke hearts with jabugo vinaigrette, manchego cheese and truffled oil
Sintonia: oxtail bomb in red wine and "Tou dels Til-lers".
Solomillo Restaurant: Strogonoff tenderloin with crispy rice pilaf
The One Barcelona: cod brandade crocanti with piquillo peppers cream and olivada mayonnaise
The Wine House Pop-Up Store: the Wine Stracciatella, smoked creamy eggplant with burrata straciatella, dried fruit praline and green mojo.
---
The most exquisite roast chickens in Barcelona