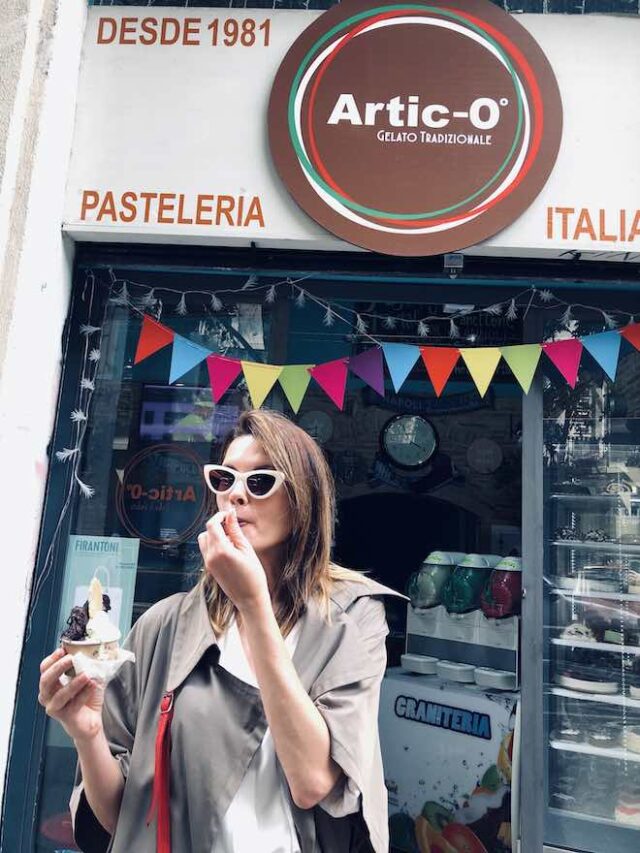 The fact that many Italians live in Barcelona is no secret. Thanks to them, Barcelona boasts gastronomic stores, restaurants, pizzerias and ice cream parlors so authentic that they make you feel as if you were in Italy.
A little history of Italian ice cream
El handmade helado is one of the most important icons of Italian gastronomy . Its history dates back to ancient Rome, although it was during the Italian Renaissance that it became known in Europe. It was thanks to Caterina de' Medici (an Italian noblewoman who became Queen of France), who introduced ice cream recipes to the French court.
Thus it was that in the seventeenth century, in Italy began to open the first ice cream parlors. Already in the 18th century, thanks to the discovery of rapid freezing, important advances were made in the manufacture of Italian ice cream to achieve a softer and creamier texture, very characteristic of the typical Italian ice cream.
In the 20th century, the Italian ice cream was already a symbol of Italian culture that had spread all over the world. Many Italian gelato makers emigrated to other countries, taking their recipes and traditional techniques with them. Their success has been so great that nowadays it would be very rare not to find an artisan Italian ice cream parlor in the main cities of Europe and the world.
Another thing is to find a good ice cream. That's why we leave you this list with our favorite Italian gelato shops in Barcelona all a hit for when you are craving for a delicious ice cream . They are all ice cream parlors with their own bakery that stand out for the quality of their ice cream.
The best Italian ice cream parlors in Barcelona.
Gelaaati! by Marco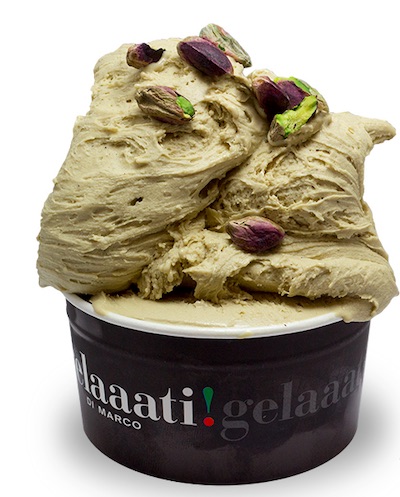 Located in the heart of the Born neighborhood, Gelaaati! di Marco is a Italian artisan ice cream parlor that makes its ice creams daily with natural ingredients. . Their ice creams stand out for their authentic flavors and for not using in their recipes no preservatives, no hydrogenated vegetable fats.
A special mention also to their more creative proposals with interesting combinations of flavors. Gelaaati! di Marco has been in Barcelona since 2006 and its location and quality product has become a reference for eating quality Italian ice cream in the center of the city.
Carrer de la Llibreteria, 7, 08002 Barcelona, Spain
Milk Drops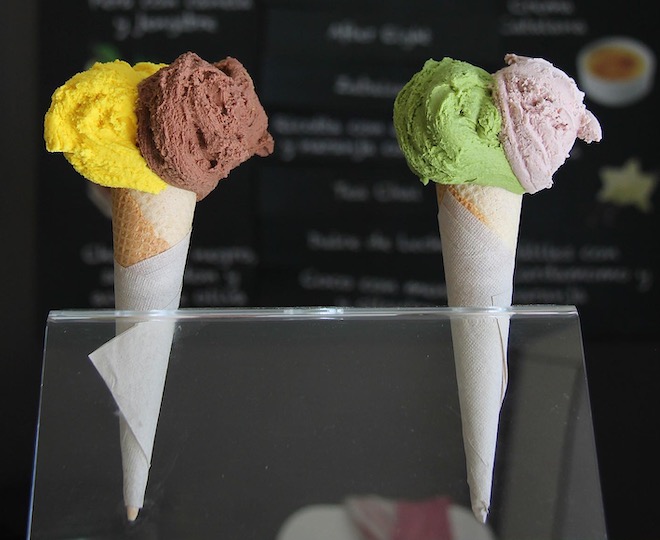 Una Italian gourmet ice cream of the highest quality . It has been in the Born since 2012 and its artisan ice cream is an institution in the neighborhood. Here we can find traditional flavors and innovative proposals. Whatever you try will be a success.
In addition, Gocce di Latte has another ice cream shop nearby that is dedicated exclusively to vegan ice cream made with rice milk.
Pla de Palau, 4, bajo, 08003 Barcelona, Spain
DelaCrem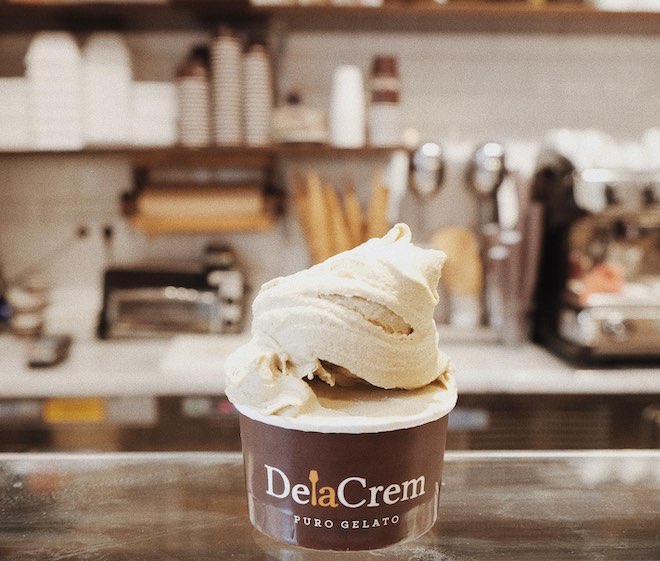 It is currently one of the most famous Italian ice cream parlors in Barcelona . They started in 2010 with an ice cream shop on Enric Granados Street and so successful has been their success that nowadays if you pass by this busy corner it is almost impossible not to find a queue of people waiting for their ice cream.
Now they also have a store in Passeig Sant Joan and sell some of their ice creams in the bar-restaurant Cuba de Janeiro on Avenida Mistral.
DelaCrem is Italian artisan ice cream made following traditional techniques and fused with local flavors and seasonal products . A combination that makes their ice creams very special.
C. d'Enric Granados, 15, 08007 Barcelona, Spain
Obrador DelaCrem: Passeig de Sant Joan, 59 08009 Barcelona
Artico Barcelona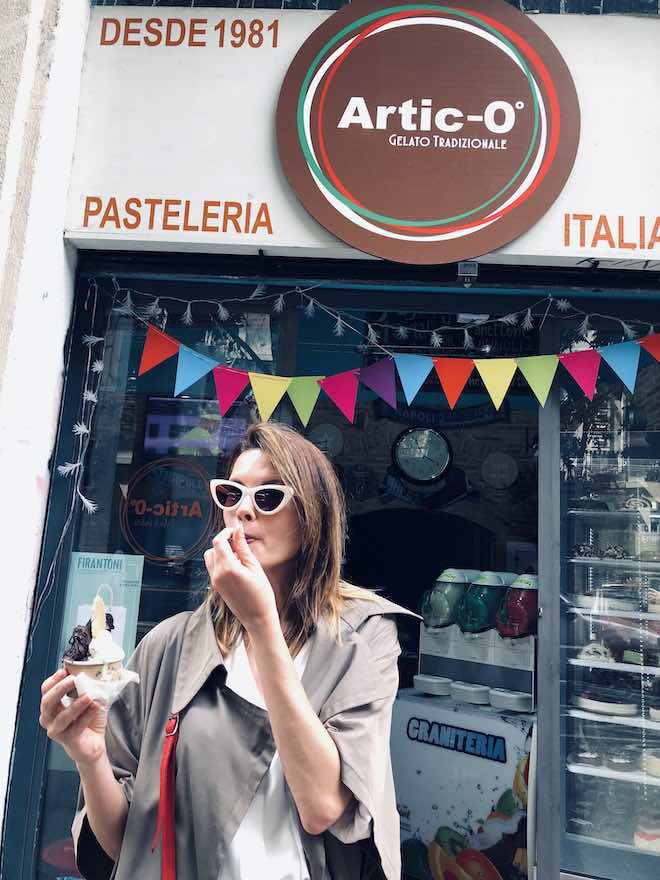 If you are a fan of pistachio ice cream, you can't miss this Italian ice cream parlor in the Sant Antoni neighborhood of Barcelona.
Their salted pistachio ice cream is really a delight. Artico Barcelona is actually an Italian pastry shop with its own bakery that sells both retail and wholesale.
Unlike the other ice cream parlors mentioned in this list, here you will not find a wide variety of flavors. They usually have only a few, chocolate and pistachio are never lacking, but what they do have are very, very tasty.
C/ del Parlament, 13, 08015 Barcelona, Spain
Badiani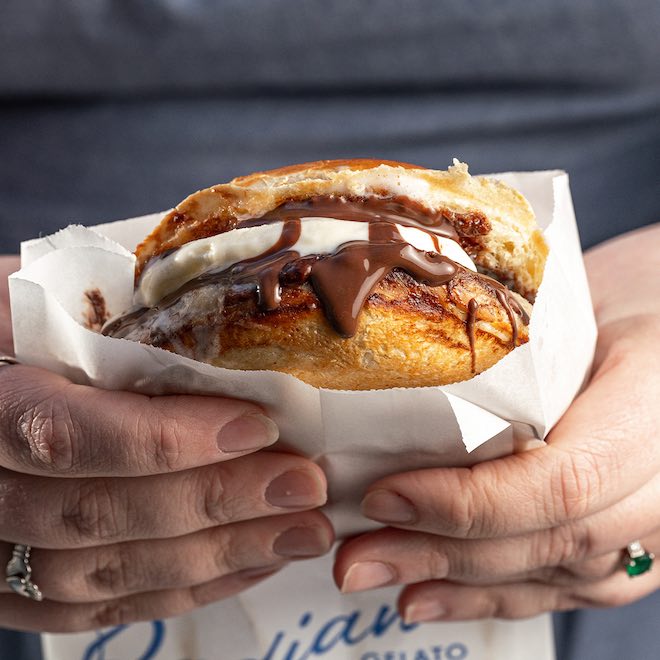 It is reputed to be one of the oldest ice cream parlors in the world. They opened in Florence in 1932 and have recently opened their first ice cream shop in Spain in Barcelona.
In their beautiful flagship located next to Passeig de Gràcia we can see how they make their handmade ice creams. Its particularity: the Buontalenti flavor winner of the award for the best artisan gelato flavor in the world at the 2015 Gelato Festival. . What makes this flavor very special: its ingredients. It only contains milk, sugar and eggs. Its name is a tribute to the architect Bernando Buontalenti, who is credited with the invention of the first gelato in history.
Another particularity of this ice cream parlor: here you can eat the "maritozzo con il gelato", an ice cream that instead of the cone is served inside a spongy brioche bread.
C/ del Rosselló, 232, 08008 Barcelona, Spain
Ice Cream Bar Cremeria Tuscany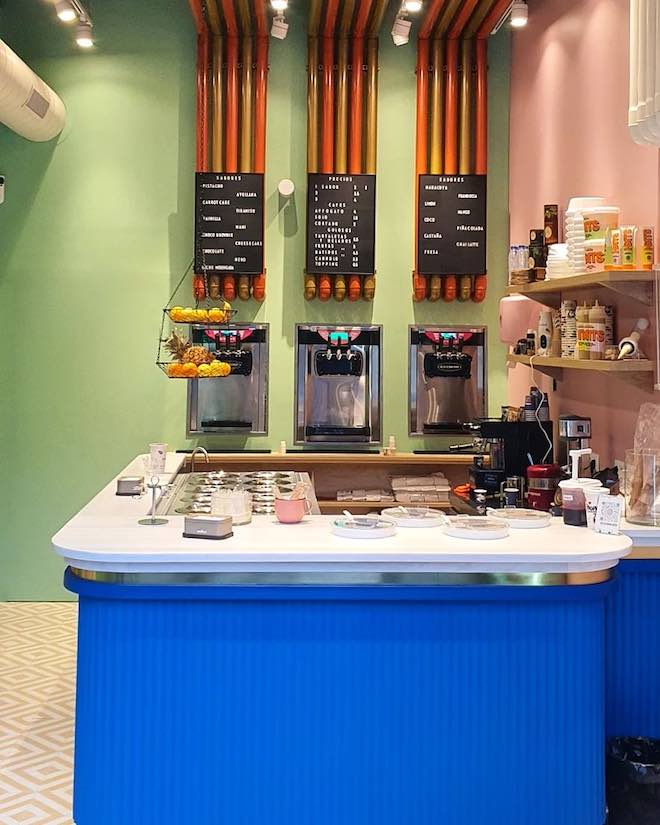 Cremeria Toscana has a long history in Barcelona. Its Italian ice cream parlors are a reference in Barcelona. Their ice creams have always been a guarantee of quality.
Of their establishments, in particular we mention the Gelato Bar in Paseo Sant Joan. It is a place with an exquisite colorful decoration and their ice creams are delicious. You have to try their super creamy fruit sorbets.
C/ del Consell de Cent, 408, 08009 Barcelona, Spain
Other ice cream parlors in Barcelona that you have to try
Paral-lelo, The most creative ice creams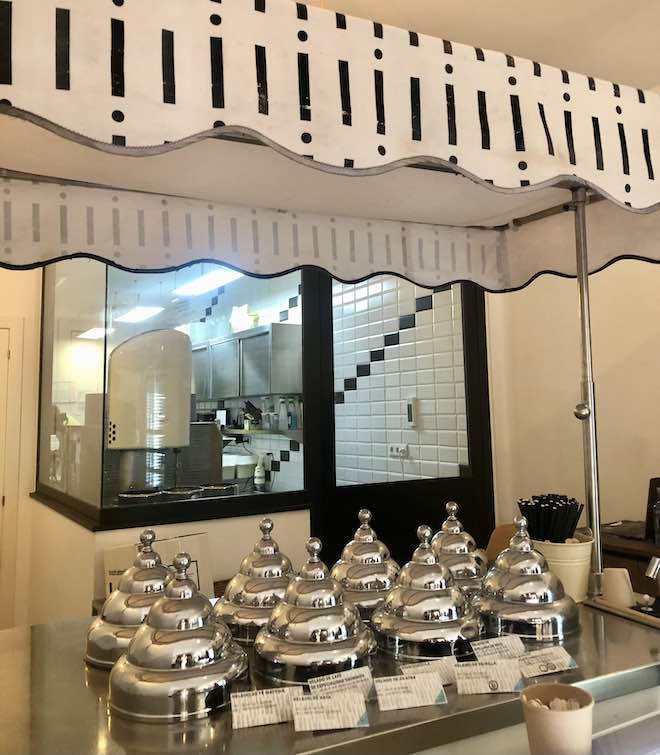 With its 100% handmade ice cream of very creative flavors, the guys from Paral-lelo Helado have made a name for themselves in Barcelona.
The particularity of their ice creams lies in the technique of entirely handcrafted production and in the selection of local and seasonal ingredients . For example, in Paralelo Helados you will not find pistachios from Bronte but pistachios from Lleida. And that gives a very important added value to the product. But the most remarkable thing is undoubtedly the great creativity of the team.
In fact, among their flavors, the most interesting thing is to try the creative combinations that they bring out and renew every season.
C/ de Sèneca, 18, 08006 Barcelona, Spain
Anita Gelato, the cutest ice cream parlor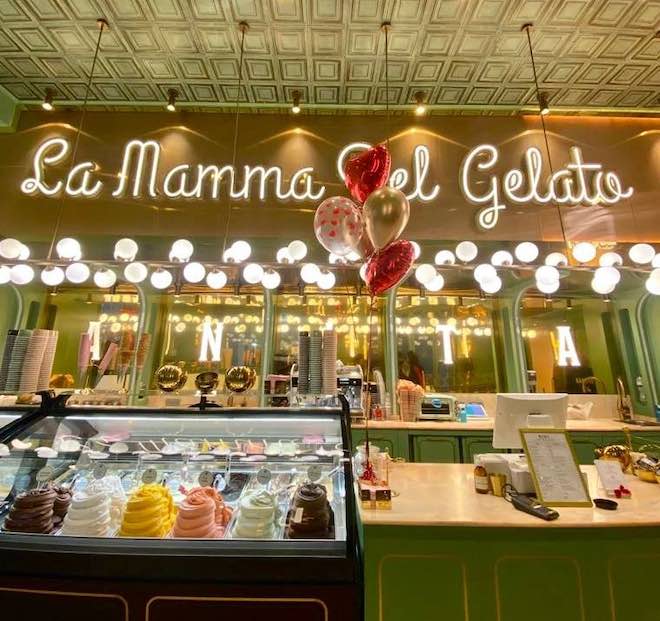 They are not Italian. In fact, it is an Israeli chain that has exported its successful format from its workshop to various parts of the world. But we could consider Anita ice cream as the cutest ice cream shop in Barcelona .
Everything here is cute and delicious. The design of the place is a studied mix of vintage and naive elements and their delicious ice creams are served with toppings that turn them into delicious sins.
Plaça de la Vila de Gràcia, 15, 08012 Barcelona, Spain
Rocambolesc, the most extravagant ice creams of Barcelona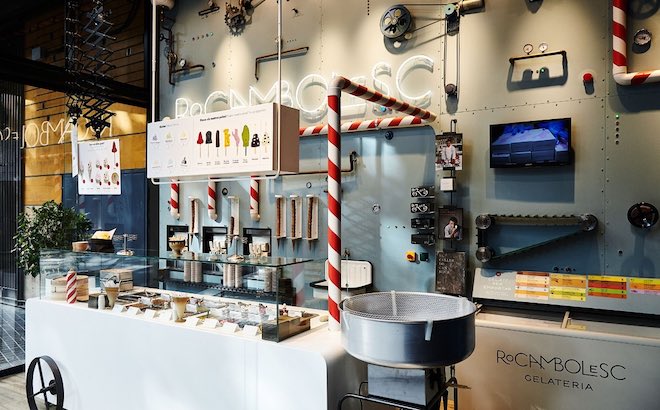 It is the signature ice cream parlor of chef Jordi Roca, a place in Las Ramblas with a decoration that reminds us of Willy Wonka's Chocolate Factory. It is here where you will taste the most original, creative and extravagant ice cream in Barcelona. At Rocambolesc you will find ice creams, popsicles and sorbets of the most extravagant flavors and shapes.
La Rambla, 51, 59, 08002 Barcelona, Spain
---