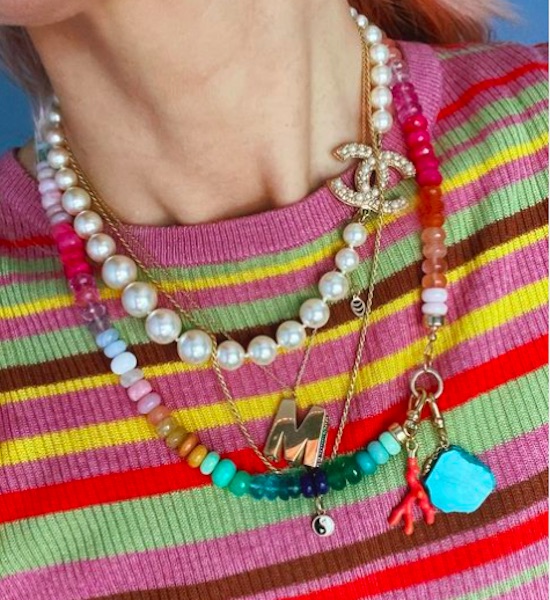 Colorful, extravagant and very Y2K, the spring summer 2022 fashion jewelry rescues the iconic pieces of the 90′.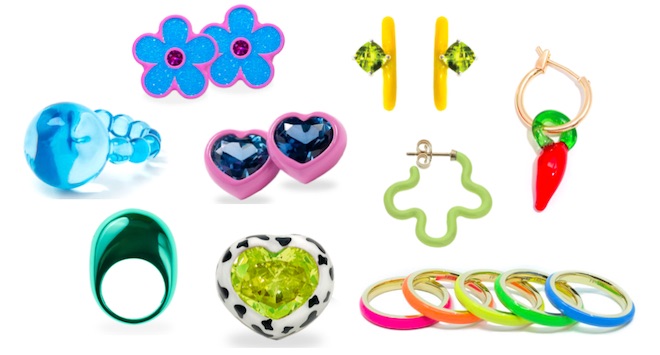 El estilo Y2K originated in the late 90's early 2000's is pure trend this 2022. It seems that everyone has agreed. In fashion, but also in jewelry and accessories, this year it's the turn of rescue the complements most iconic endings of the 1990s '.
On the one hand, we have the desire to bold colors , en fun , joy, positivity and to get out of the codes. On the other hand, many of us look back with nostalgia to a time when our concerns were different. We are also influenced by the fact that the generation Z and the tiktokers have become one of the most important sponsors of the Y2K aesthetics for its fun style and for considering it a fashion that leaves total freedom of expression.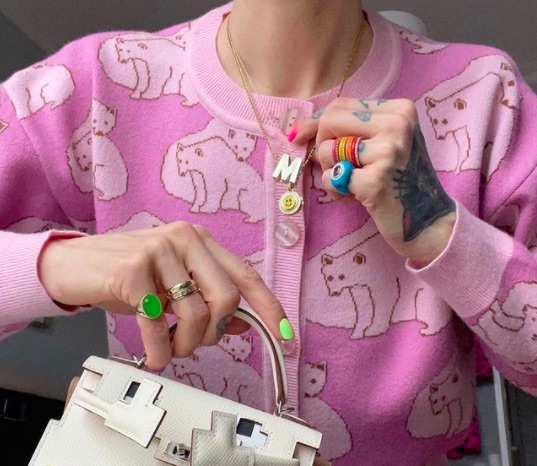 In terms of jewelry, the return of the Y2K aesthetics and the playful jewelry has been supported by influencers such as Dua Lipa or Gigi and Bella Hadid, among many others who have been wearing 90's accessories for years. So for this 2022, goodbye to minimalism! Extravagant jewelry, with pop colors and full of personality.
Fashion jewelry for spring summer 2022
The keys are the pop colors the detalles playful with naive and fun charms, brilli brilli, customization and free mix and match in terms of styles and colors.
The key pieces: the rings and heart-shaped earrings colored with shiny crystal filling and those of the flowers such as those of Dans LesRue, resin rings (a set of thin colored rings or a bold XL ring), chains (in necklaces, bracelets, earrings and body jewelry), earrings (golden, colored and with shiny pendants or fun charms).
FASHION RINGS
– CHUNKY y GUMMY RINGS –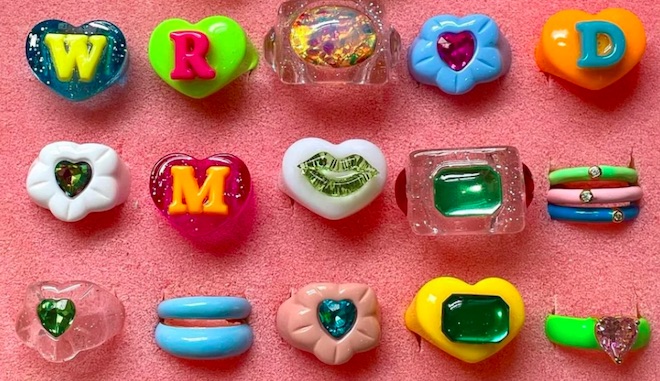 These are colorful and fun rings reminiscent of the jelly beans that 20 years ago you could buy at the newsstand. Y2K fashion has rescued them giving them a new life and the it girls have turned them into a new trend. complemento must have del 2022 . Maxi, in fun vibrant colors and with sparkling crystals. They are made of plastic and crystals although many brands have brought out the fine jewelry version of the trend so we have options for all tastes and all budgets. From the more affordable Bon Bon Whims (pictured) or La Manso to Dans LesRue, Jupiter or FryPowers, among many more brands.
COCKTAIL RINGS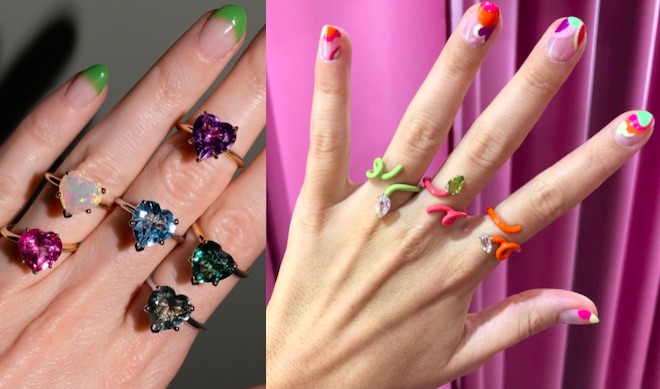 Precious stones and very bright to the eye but in colorful frames like those of Bea Bongiasca or in solitaires. They are the protagonists and their unusual shapes. Rare, precious, different and fun.
FASHIONABLE EARRINGS
CHANDELIER EARRINGS and EARRINGS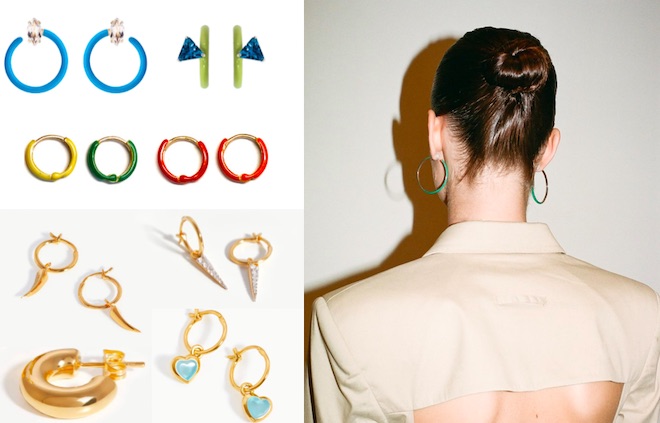 Y2K fashion rescues the hoops as the fashionable earrings of the season . Golden or in pop colors, (they are also worn in sets as ear cuffs) the earrings are often embellished with crystals or sparkling stones. More or less chunky, earrings are worn alone or with dangling charms. In fact, chandelier earrings with maxi pendants and extra doses of sparkle are the other big trend of the season.
FASHION NECKLACES
LINK CHAINS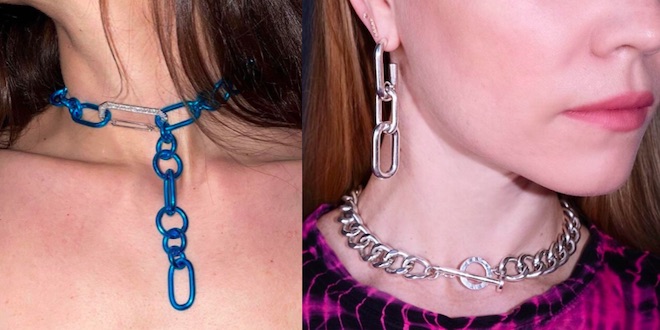 Gold, silver or, this season, colored, chunky chains continue to be a trend. They can be maxi-sized or smaller, in choker, choker or necklace versions and, if you want to give it an even more fashionista touch, add a charm.
PERSONALIZATION (LETTER, NAME, YEAR, ZODIAC)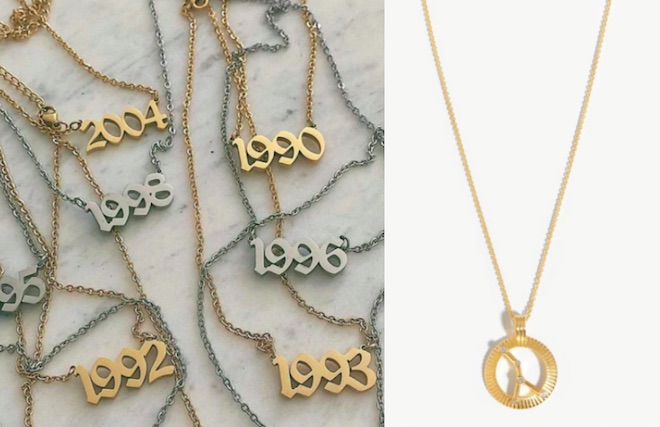 With initials, with our full name, with our zodiac sign or with our year of birth, fashion necklaces speak about us. This very Y2K and naive trend takes over necklaces and chokers, plain, pearl or colored beads. The pearl necklace with pendant with our initial or the necklace with the date of birth or the zodiac are pure trend.
COLORFUL BEADS AND CHARMS CHOKERS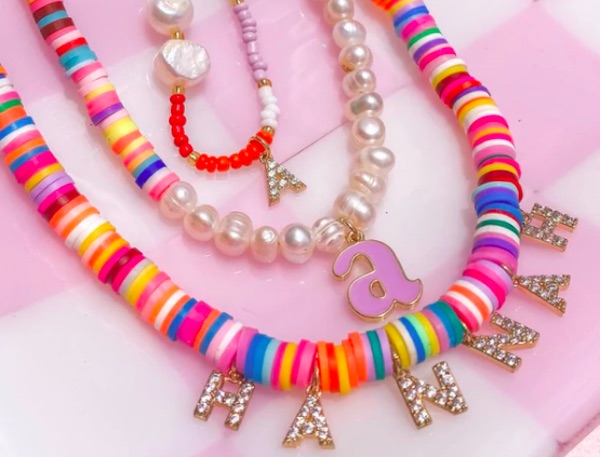 It is playful jewelry fashion so we must dare with color and fun accessories. This summer, colorful beaded chokers with fun and cheerful charms, smiley faces and the possibility of adding a pendant with our initial or our whole name will be an absolute must. They are cheerful, very summery and just seeing them on will put you in a good mood.
PERLAS PLAYFUL
For a few seasons now, trends have been rescuing pearls in different ways. This spring summer 2022, the classic necklace is reinvented in jewelry and costume jewelry pieces full of color and fun. Pearl necklaces with charms, pendants with rhinestones or initials are trendy. It is not necessary to think of the typical pearl necklace, here the stones are alternated with colored pieces, spaced with notes of golden metal or are part of a chain of links.
OVERLAPS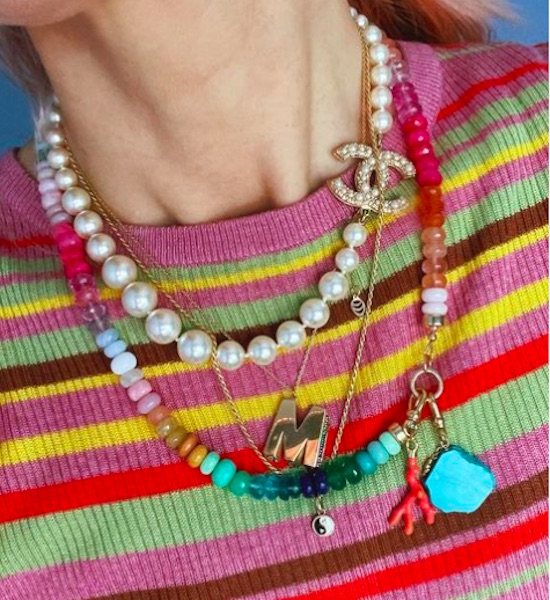 Do not leave all the protagonism to a single necklace or a single ring. Fashion asks us to be creative and mix jewels and styles to create our own combination. Never before have jewels allowed us to express ourselves so much.
---
7 jewelry brands worn by it girls that we all can afford
Low-rise jeans make a comeback, a 90′ fashion trend for 2022