With skinny fit and flare finish, straight cut or super wide leg with infinite length, the 90's trend of wearing low rise jeans and pants is back.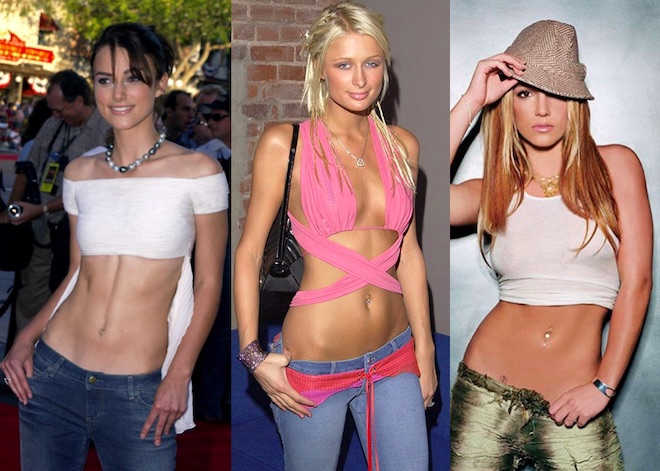 Low rise jeans, a 90's icon
It was his first fashion show after graduating from St. Martin's and Alexander Mcqueen had been one of 6 young designers selected to present his collection at London Fashion Week for the autumn/winter 1993 season. His groundbreaking proposal changed everything. The collection was entitled Cab Driver as the Scorsese film to which it referred, and it featured the famous '. Bumster' trousers . These pants were scandalously low-rise, so much so that part of the bum was exposed (bum), hence the name 'Bumster' trousers.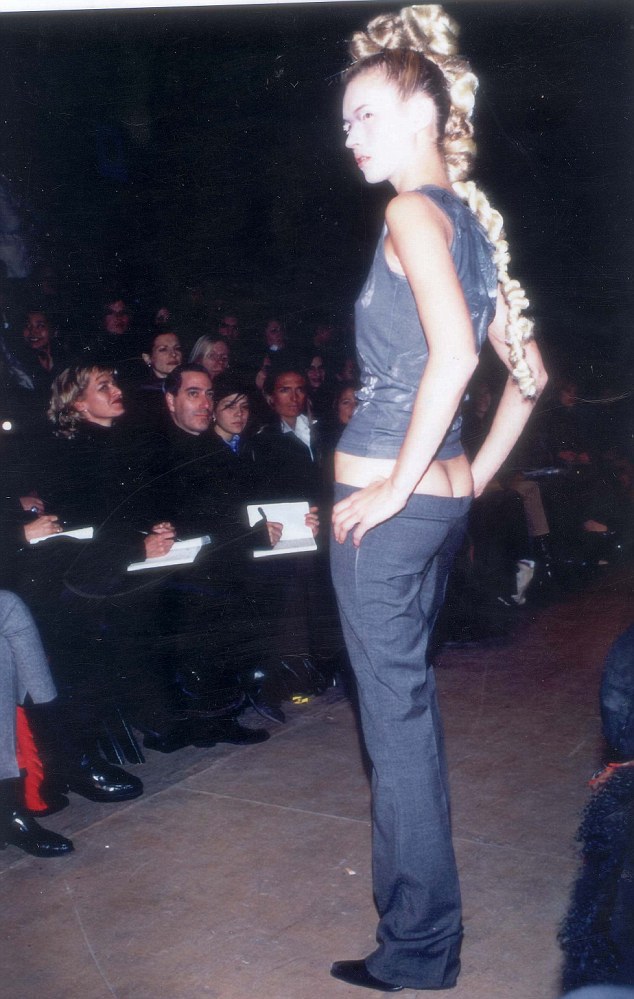 The phenomenon had just begun, in 1994 Madonna wore 'Bumster' trousers for MTV officially consolidating the fashion of low-waisted jeans. They were sexy, rebellious and provocative, all the celebrities wore them and all the girls imitated them.
In the street fashion, the buttocks were not shown, but the navel and hips (and panties) were shown. In fact, with these pantalones low waist so extreme, McQueen was aiming for lengthening the female figure more than showing his butt. And to uncover what he considered the most erotic part of the body, the lower spine.
For whatever reason, everyone wore them and low rise jeans became an icon of the 90s and early 2000s.
The return of low rise pants
Designers have been trying for a couple of years and it seems they have finally succeeded. Los low rise jeans are back and we already have them in the main fast fashion stores in all their versions.
The trend picks up exactly where the 90'/2000′ style trend left off when Britney Spears, Mariah Carey, Rihanna, Beyoncé, Paris Hilton and many more. pop stars y celebs They wore them combined with tops and bralettes showing off their flat tummies and perfect abs.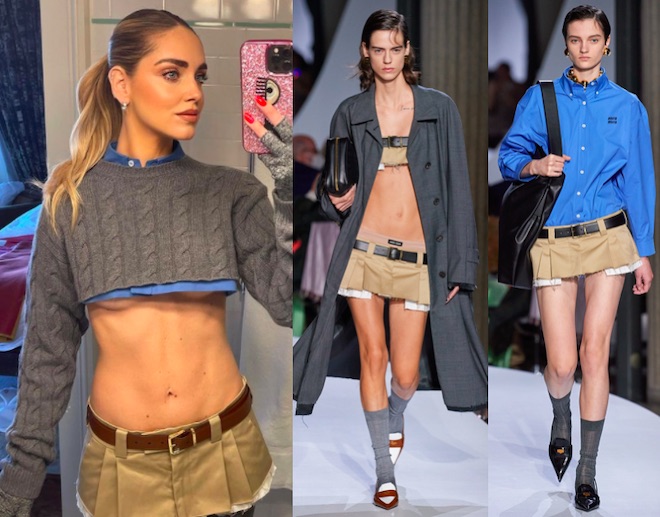 In fact, Miu Miu for spring summer 2022 has paraded pants and shorts with such a low rise that they could almost remind of Alexander McQueen's.
Low-waisted jeans: a fashion for the few?
Admittedly, low-waisted pants as they were worn in the 1990's are a fashion that only looks good on women with flat bellies . Showing belly button is definitely not for everyone. Besides, they are not comfortable at all, even more so now that we have become accustomed to wearing high-waisted mom jeans.
In fact, this The return of low rise pants has been widely criticized. by the advocates of inclusivity and normalization of all body types. The reality is that we are no longer in 1990, we have already passed that phase in which it was fashionable to be super slim and (theoretically) we now use fashions to express ourselves and not to be their victims .
Of the rebellious and provocative message of Alexander McQueen's low rise jeans, we are now left with only the memory. The aesthetics of the 1990'/2000′ era are very much in fashion and the skinny jeans are possibly the main icon of those years. Although it must be said, in most of the low rise jeans we find now in stores, the low waist is not as extreme as it was back then.
Low rise jeans, the trend in 2022: the jeans that are in fashion
Fashion has adapted to the new times, times in which comfort is a key word that the fashion world did not know before. The low rise of the new fashionable low rise jeans is not so low anymore and the straight cut or wide leg pants are proposed as a more comfortable alternative to the skinny jeans with flare finish of the 90′ .
Straight cut and low rise: the easiest option to go with the trend

JEANS LOW RISE STRAIGHT de Zara

Low rise with extra long wide leg: the most stylish alternative to join the trend.

Diesel and Vetements' wide leg low rise jeans for winter 2022

Fluor colors, wide leg and low rise: the most fashionista and fun option.

low rise wide leg pants in fluor colors: Zara and Versace SS2022
How to wear low rise pants
In true 90's style: Showing off your belly
Low rise jeans + crop top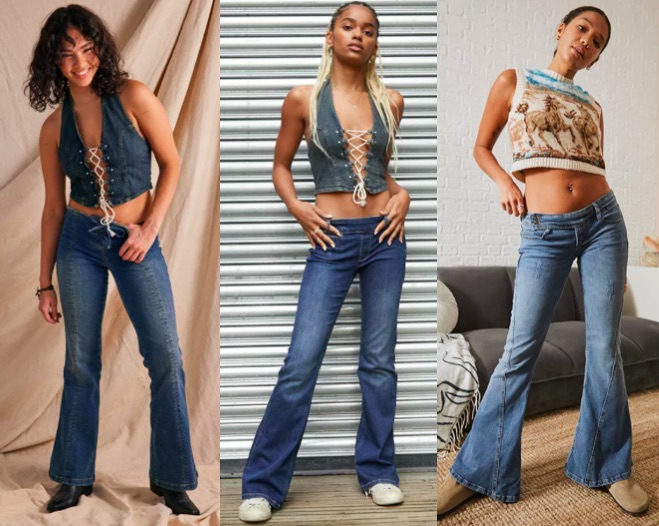 If you have the perfect body to show off your belly button and abs, go for it. You can take inspiration from any of the celebrity looks of the early 2000's and you will have hit the mark. .
Choose jeans low rise in slightly elastic fabric and finished with flare if you want to give 100% with the trend and combine them with micro top, micro sweater, open or knotted shirts. Don't forget to add color using the fluorine tones that are so fashionable this season. Jeweled belts, pointed toe shoes, chokers, scarves and caps complete the look for a 100% 90's outfit.
Adapting the trend to your physique and to the new era:
Low rise jeans wide leg + camiseta oversized
If you're excited to wear the trend but don't want to show your belly, wear your low rise jeans with oversize shirts, blazers, masculine shirts or comfortable blouses.
To make your low rise jeans more comfortable and wearable, but without losing the retro look, opt for low rise jeans with an extra long wide leg or a full length straight cut.
---